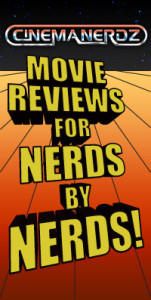 CinemaNerdz is your online destination for everything related to the movies! We bring you criticism, reviews, interviews, and news that you can trust. Our staff of actual cinema nerds come from a variety of vocations and disciplines but the one thing they all have in common is a deep, fundamental love of film and a burning need to write about movies, then share that cinephile goodness with you right here on the pages of this site.
If you're in the mood, check out the bios below for all the juicy bits concerning the CinemaNerdz staff!
CinemaNerdz is proud to be a part of the burgeoning filmmaking community that has been growing in the state of Michigan over the last few years. At CinemaNerdz we're dedicated to bringing a touch of class and a bit of dignity to the world of film criticism.
Very Important and Legally Binding Disclaimer: CinemaNerdz.com is an independently owned website which is intended to be enjoyed as entertainment. Views expressed on the pages of this website and/or any of its derivatives may or may not reflect those of its owner and proprietor. In essence, please don't take anything we say here seriously, we're writing about the subjective art form of cinema after all and one man's Citizen Kane is another man's Ishtar.
A very special thanks to Web Designer John Boissy, the man who makes CinemaNerdz look so good by coming up with the artwork you can find on the site's pages and on Facebook, Twitter, Pinterest, and Google+.
____________________________________________________________
Mike Tyrkus
Title: CinemaNerdz Captain / Editor in Chief
E-mail: [email protected]
Bio: An independent filmmaker, co-writer and director of over a dozen short films, Mike has spent much of the last two decades as a writer and editor specializing in biographical and critical reference sources in literature and the cinema and is a standing member of the Detroit Film Critics Society.
His contributions to film criticism can be found in the International Dictionary of Films and Filmmakers and the St. James Film Directors Encyclopedia (on which he collaborated with editor Andrew Sarris). He currently lives in the Detroit area with his wife, Nikki, and their dog, Pearl.
Member: Detroit Film Critics Society
Favorite Director: David Cronenberg / Favorite Quote: "Wherever you go, there you are."
Follow Me On: FACEBOOK | TWITTER
____________________________________________________________
Miranda Clarke

Title: Contributor
E-mail: [email protected]
Favorite Animal: Dog
Favorite Color: Gold
Favorite Song: "Wake Up America" by Miley Cyrus
Favorite Actress: Selena Gomez (that's her and Miranda on the left)
Bio: I love to sing, dance, and play with my two dogs (Fluffy and Fletch). I take things seriously, but other times I just go crazy. Just give me a microphone and I will rock it out. I love movies that are funny.
____________________________________________________________
Greg Fichter

Title: Contributor
E-mail: [email protected]
Bio: Greg toiled for years in the hallowed bowels of the legendary Thomas Video and has studied cinema as part of the Concentration for Film Studies and Aesthetics at Oakland University. He has hosted the cult movie night "Celluloid Sundays" at The Belmont in Hamtramck, MI. and enjoys everything from High Trash to Low Art.
Favorite Movies: The Night of the Hunter, Persona, Manhattan, Beyond the Valley of the Dolls, and There Will Be Blood
Favorite Director: Martin Scorsese
____________________________________________________________
Jake Hubbard

Title: Contributor
Favorite Directors: David Fincher, Christopher Nolan, Martin Scorsese, Stanley Kubrick, and Ingmar Bergman
Favorite Movies: Fight Club, No Country for Old Men, 2001: A Space Odyssey, Road to Perdition, and The Big Sleep
Favorite Quote: "I want you to hit me as hard as you can." (Brad Pitt as Tyler Durden in Fight Club)
____________________________________________________________
Laurie Fundukian

Title: Contributor
E-mail: [email protected]
Bio: Laurie has been a writer and editor for longer than she'd like to admit, and has a background in newspaper and magazine writing and entertainment reviewing. She also has done quite a bit of local theater (acting and directing) and voice-over work, but it's a good thing she has a day job, which pays for her many travels. She pretends to only like more high-brow movies like The King's Speech, but in reality, Dirty Dancing was/is about as close to perfection as it gets for her. She is currently studying for a master's in English Literature while working full-time as an editor, so escaping to the movies is a welcome luxury. She can always find something to like (and dislike) about a movie, and appreciates all that goes into the whole process.
____________________________________________________________
Dane Jackson

Title: Contributor
E-mail: [email protected]
Other places you can find Dane:
Dane Reviews the World
The Author's Blog
Favorite Director: Christopher Nolan
Favorite Color: Green
Favorite Quote: "Alright you Primitive Screwheads, listen up! You see this? This…is my boomstick!"
Follow Me On: FACEBOOK | TWITTER
____________________________________________________________
Joe Johnson

Title: Contributor
Bio: Joe was raised in Hamtramck, Michigan, by a single mother of four children. The family's main source of entertainment was the dollar show, where the family would see two, sometimes three movies in a row at the theater for a dollar. In high school, Joe got involved with his local Public Access TV studio and began a career in video that's lasted over 25 years. In 2003 he began a popular website dedicated to cars from television and film. Currently, he's single and lives in Royal Oak. He still has a passion for movies instilled in him by his mother. When not in a darkened movie theater, he's at home watching old classics from the 1930s, 1940s, and 1950s.
Check out Joe's Website: Hollywood Die-Cast.com
____________________________________________________________
Seth Paul

Title: Contributor / Bad Film Enthusiast
E-mail: [email protected]
Bio: When not failing to write novels and screenplays, Seth writes humorous comedy tracks for films under the name "The One Man Band" that can be found at Rifftrax.com.
Favorite Movie: Tie between Ben-Hur and Rock & Rule
Favorite Quote: "Ray, when someone asks you if you're a god, you say 'YES!'"
____________________________________________________________
Ryan Potter

Title: Contributor
E-mail: [email protected]
Bio: Ryan has written three screenplays, one of which did well in the Austin Film Festival Screenplay Competition. He's been writing fiction professionally since 2004. His short stories have appeared in a variety of publications, and Flux published his debut young adult novel, EXIT STRATEGY, in 2010. THE CLEANER, his debut adult novel, was published as an Amazon Kindle exclusive in 2012 and tells the humorous story of a Michigan competitive eater's rise from lifelong slacker to hometown hero. His first short story collection, WELCOME TO DETROIT: TEN YEARS –TEN STORIES (2002-2012), is also available as a Kindle exclusive through Amazon.
Favorite Directors: Alfred Hitchcock and Steven Soderbergh
Favorite Actors: George Clooney and Cary Grant
Favorite Movies: North by Northwest and Out of Sight
Other places you can find Ryan: NOT SO MAINSTREAM – blog & website, Amazon Author Page, GoodReads Author Page
Follow Me On: TWITTER
____________________________________________________________
Marit Rogne
Title: Contributor
Other places you can find Marit:
i never thought it would happen
Favorite Director: Ingmar Bergman
Favorite Pattern: Paisley
Favorite Quote: "Greenman is totally saving your life right now, bro."
____________________________________________________________
Betsy Russo

Title: Contributor
E-mail: [email protected]
Bio: Betsy resides in Farmington Hills, Michigan with her 100% Italian husband Anthony, that she states is like the next best thing to being married to one of the Soprano's. She is presently writing a novel and pursuing a Freelance writing career. It's important to her that her writing combines sensitivity, honesty and a hint of sarcasm to create a relatable experience with the reader. Having a passion for film and an all around American pie opinion, she aspires to have the sensibility for what the average Joe might enjoy.
Favorite Movies: Everything Godfather, The Hangover, The Notebook, Forest Gump, and The Big Kahuna
Favorite Actors: Tom Hanks, Kevin Spacey, Robert De Niro, Meryl Streep, and Sponge Bob Square Pants
Favorite Quote: "He's got me waiting in a lobby!" (Frankie Pentangeli)
Follow Me On: TWITTER | FACEBOOK
____________________________________________________________
Gerard Spalding

Title: Contributor
E-mail: [email protected]
Bio: Gerard Spalding is a Kentucky-based international educator. He is a fan of sports (NBA, NFL, and English Premier League) and of all things Japan. He is an aspiring writer and his hobbies include basketball, travel, and languages.
Favorite Directors: Ridley Scott, Darren Aronofsky, Stanley Kubrick, Christopher Nolan, and David Fincher
Favorite Quote: "Roads? Where we're going, we don't need roads."
____________________________________________________________
Jenna T.

Title: Contributor
E-mail: [email protected]
Bio: Jenna is a lifelong moviegoer turned film-lover beginning at a very early age. (She grew up during the E.T. era of course). She believes that movies are a part of a person's biography that in addition to entertainment can provide many memorable experiences as well. Jenna is a lover of all movie genres, and will most likely be found at smaller audience released pictures as opposed to the big Hollywood blockbusters. When she's not watching movies or her two kids Charlie, 4, and Megan, 1, she is working on completing her very first screenplay.
Favorite Quote: "The chicks are great…I sound like a dick!" (Jason Lee from Almost Famous upon reading his misquote from his band Stillwater's article in Rolling Stone Magazine)
____________________________________________________________
Tony Trupiano

Title: Contributor
Bio: Tony has spent the better part of the past two decades in and around the media. As the host of his own nationally syndicated radio programs for 17 years Tony has interviewed over 25,000 guests and appeared as a guest on over 800 radio and national television shows. He founded of his own public relations firm and he went on to author two books and became a "go to" authority on a myriad of issues. Tony is best known as the flame throwing Progressive radio show host.
Other places you can find Tony: First Shift Homepage / Tony's Blog
Follow Me On: FACEBOOK | TWITTER | LINKEDIN