Posted
January 28, 2013 by Seth Paul
in News
Box Office Weekend: Hansel and Gretel Lead A Weak Box Office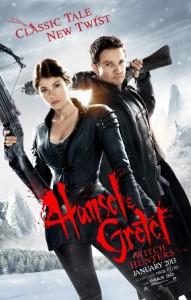 Receipts were down this week as a whole, as a handful of new films hit the box office that did little to inject life into it. Hansel & Gretel: Witch Hunters led the way with a fairly weak estimate of $19 million, though the $50 million film had a big enough opening overseas to ensure it made back on its investment. It was the only new film to break the top three, which belonged to box office winners Mama, which made an estimated $12.9 million and more than enough to ensure domestic success with $48.6 million against $15 million, and Silver Linings Playbook, which made an estimated $10 million and maintained a strong showing well into its eleventh week of release.
Other big winners Zero Dark Thirty (estimated $9.8 million) and Django Unchained (estimated $5 million) sandwiched newcomer Parker. Jason Statham's new shoot-em-up failed to impress with an estimated $7 million on a $30 million budget, making it the worst opening for a film starring Statham since 2009's Crank: High Voltage. However, it can claim a higher place in terms of earnings and acclaim when compared to Movie 43. The ensemble comedy, which is getting horrific critical reception (even less so than A Haunted House) only earned an estimated $5 million, but could easily become profitable by next weekend with its scant $6 million budget. Along with A Haunted House, it seems to putting forth the notion that as long as your movie costs under $10 million, it is a safe bet in theaters, no matter how poorly it is received.
Les Misérables may have landed in tenth this week with an estimated $3.9 million, but the film is a bonafide success, with $137.2 million domestically and $312.9 million worldwide. It certainly stands head and shoulders over eighth and ninth, Gangster Squad (estimated $4.2 million) and Broken City (estimated $4 million). Both crime thrillers cannot find an audience, failing to hold up against poor reviews, as both continue to fall away from their respective $60 million and $35 million budgets.
Weekend Box Office (January 25th – January 27th)
Hansel & Gretel: Witch Hunters…$19 million
Mama…$12.9 million
Silver Linings Playbook…$10 million
Zero Dark Thirty…$9.8 million
Parker…$7 million
Django Unchained…$5 million
Movie 43…$5 million
Gangster Squad…$4.2 million
Broken City…$4 million
Les Misérables…$3.9 million