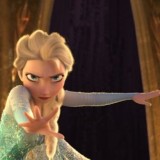 Movie Review: Frozen
Disney's Wreck-It Ralph was one of my favorite movies last year, and it gave me a good feeling to see that the House of Mouse can still make great animated films even when they aren't under the Pixar banner. After that, I was eagerly anticipating the next Disney animated feature, Frozen, loosely based on Hans Christian Andersen's The Snow Queen and written and co-directed by Jennifer Lee, who had co-written Wreck-It Ralph. But as trailers for Frozen started to come out, it did not look like what I was hoping for. When I sat down to watch the movie, I was prepared to be underwhelmed. But it turns out my fears were unfounded, because I enjoyed the film much more than I had expected. Forget the lame advertising, because Frozen is a great animated family film and a perfect Thanksgiving release for both the young and young at heart.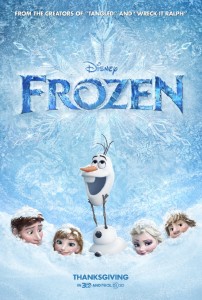 In the kingdom of Arendelle, there are two princesses – Elsa (voice of Idina Menzel), the soon-to-be Queen, and her younger sister Anna (voice of Kristen Bell). Unbeknownst to the outside world, Elsa has the magical ability to create snow and ice. After accidentally revealing her powers during her coronation, Elsa goes into hiding, only for her emotions to trigger a magical, eternal winter which freezes all of Arendelle in solid ice. When this happens, the arrogant Duke of Weselton (voice of Alan Tudyk) plots to turn the whole kingdom against "the monster" Elsa for his own ends. But Anna remains convinced that she can get through to her sister and undo the damage. Joined by rugged mountain man Kristoff (voice of Jonathan Groff) and his loyal reindeer Sven, Anna must undertake an epic journey to the northern mountains. They encounter mystical trolls, a living snowman named Olaf (voice of Josh Gad), Everest-like extreme conditions, and magic at every turn as they race to find Elsa, save the kingdom from eternal winter, and make things right before its too late.
The voice cast of Frozen are a collection of film, TV, and stage veterans, and they do a great job bringing their characters to life. Kristen Bell, best known as the title character on Veronica Mars and currently appearing on House of Lies, is great as Anna, able to capture the spunky, headstrong girl who wants to rebel against the constraints placed on her but still truly cares about her family and her homeland. Broadway legend Idina Menzel is similarly perfect as Elsa, totally embodying this young woman who is faced with the stress of having to lead a country at such a young age and the worry that her powers do indeed make her a monster. Jonathan Groff and Santino Fontana both do solid supporting work as, respectively, Kristoff the mountain man and Hans the prince from a nearby country. Based on the previews, I was worried that Josh Gad as Olaf the snowman would be the odious comic relief, but I actually found him very funny in the context of the film. Gad is a naturally gifted comedic actor, and his comic timing here is impeccable. Alan Tudyk, who voiced King Candy and Turbo in Wreck-It Ralph, is great as the Duke of Weselton, a scheming, arrogant nobleman who always reacts with hostility when someone mispronounces the name of his home as "weasel-town." Character actor Ciarán Hinds has the small role of Pabbie the Troll King, and proves that it is possible to have gravitas even when voicing a three foot-tall, big-nosed stone creature. And while he's only in the film for one scene, Chris Williams is very funny as Oaken, the owner of Wandering Oaken's Trading Post and Sauna.
Much like the film as a whole, the story is definitely better than I had expected going in. The movie doesn't talk down to its target audience of children, and I admire that the filmmakers were willing to go kind of dark in some places. Not to worry though, parents, because I don't think anything here is likely to give your kids nightmares. While the film is in many ways a nice throwback to the classic Disney films like Snow White and the Seven Dwarfs (1937) and Sleeping Beauty (1959), it also has some fun playing with the tropes and conventions of the genre. In particular, there's a great running gag of gently skewering the notion of love at first sight and being willing to marry someone you've only just met. While there is a romantic subplot in the film, I appreciated the fact that it wasn't overplayed and didn't end up dominating the proceedings. The key relationship in the film is the one between Anna and Elsa, and it's refreshing to see a strong sibling bond be the focus of a movie like this.
The animation and visuals of the film are absolutely beautiful. The main characters are all well-designed and fit perfectly with the voices of their actors. But what really impressed me were the backdrops and environmental designs, which are truly beautiful and painterly. From what I've read, the animators spent a lot of time studying how light interacts with real ice and snow, including visiting the famous Ice Hotel in Quebec, and that effort really shows in the final film. And being the lifelong Ray Harryhausen fan that I am, I also loved the creatures in the film. Olaf's design makes him very sweet and endearing, especially when paired with the vocal performance of Josh Gad. The other creatures – the small stone-like trolls, the wolves, and the giant snow-monster – are also quite cool, even though they don't get nearly as much screen-time as Olaf.
Like almost all of the classic Disney animated films, Frozen is also a musical, and it's a very good one. These are the best songs of any Disney animated film since the early 1990s, and if Frozen doesn't get at least one nomination for Best Original Song at next year's Oscars, I will be pissed. My favorite song in the film is "Let It Go," which Elsa sings after she decides to stop hiding who she is and embrace her wintery powers. Idina Menzel absolutely knocks it out of the park, and the combination of her vocals and the animation creates a real showstopper of a sequence. The other song that really stuck with me is Olaf's big solo number "In Summer," which is absolutely hilarious because of the combination of the upbeat, cheery music and the dark humor of the snowman's ignorance of what would actually happen to him if he was around during the summer. And the songs are backed up by a great original score by Christophe Beck.
The film really does not have much in the way of flaws. While the humor is pretty dead-on for the most part, there are a couple of jokes which fall flat. The main example of this which springs to mind is Kristoff's "fresh lacquer" line featured in the some of the trailers, which is the kind of obvious joke I would expect from Shrek (2001) or the other lesser DreamWorks animated films. Fortunately, these moments are few and far between. And while I did very much like the songs in the film, I did think there were perhaps one too many of them. While the trolls' number "Fixer Upper" is quite funny, it comes at a point in the story where the song ends up interrupting the forward momentum of the plot. While it certainly doesn't derail the story, it is a noticeable speed bump.
If you've seen the ads and trailers for Frozen and thought "not for me" or "that looks lame," banish those thoughts from your mind. This is not a bad movie in any way; it's just that the trailer have not done their job of getting across how good the film is. With a talented voice cast, a solid story, beautiful animation, and great music, this is a true return to form for Disney. It's so heartening to know that Wreck-It Ralph wasn't a fluke and that the House of Mouse is back to creating great animated films even without Pixar. And after this, I'm even more excited for Disney and Marvel's animated superhero film Big Hero 6 next year. If you're looking for a great film that the whole family can truly enjoy this holiday season, look no further than Frozen.
Latest posts by Timothy Monforton (see all)