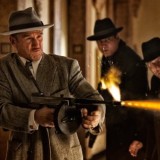 Movie Review: Gangster Squad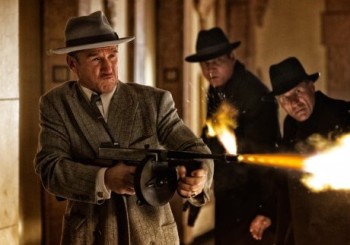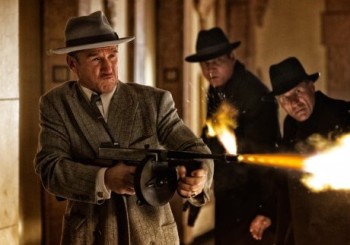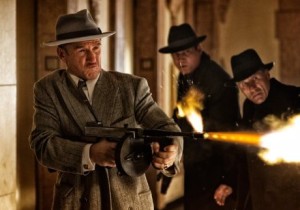 :
:
:
:
:
Genre
:
Crime
Posted January 11, 2013 by
Gregory Fichter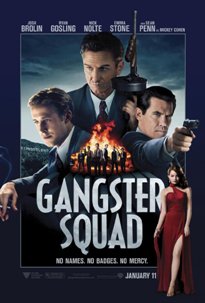 While certainly loud, somewhat sexy, and decked out in all the accurate aesthetic trappings of 1930s Los Angeles, Gangster Squad turns out to be merely a dim cousin to sincere works like L.A. Confidential or Michael Mann's intimate Public Enemies due to a battery of corny, faux-noir line readings and the bludgeoning candy-gore sensibility of Zombieland and 30 Minutes or Less director Ruben Fleischer.
While the former film was a mostly successful zom-com with a rushed ending, the latter was a tediously unfunny rob-com about bumbling criminals making little use of a fine cast including Danny McBride and Jesse Eisenberg. Gangster Squad has its share of casting coups in the red-hot Ryan Gosling and Emma Stone, square-jawed bore Josh Brolin, and Sean Penn doing a Dick Tracy cartoon version of gangland kingpin Mickey Cohen, but Fleischer's giddy, over-stylized vision remains purely superficial, quickly forgotten when the smoke clears from the considerable gunplay.
Dubiously "inspired by true events" this slapdash effort takes the macho mission shoot-'em-up approach of something like The Expendables rather than a classy effort like Brian De Palma's all-time classic The Untouchables in giving us the broad strokes of a group of nail-tough beat cops recruited by LAPD chief Parker (Nick Nolte drawling his way through another performance as if chewing on beef jerky) as under-the-law tactical agents to disrupt Cohen's criminal empire. With the aid of his much smarter wife, Sgt. John O'Mara (Brolin) rounds up his posse including an aging Wild West crack-shot (Robert Patrick), an African American knife-thrower (Anthony Mackie), a token Latino (Michael Pena, a waste after his brilliant performance in last year's End of Watch), wire-tapping futurist Officer Conway Keeler (Giovanni Ribisi) and the soulfully sensitive Sgt. Jerry Wooters (Gosling) – recklessly romancing Cohen's moll (Stone) and out for vengeance after the plucky shoeshine boy he has befriended gets shot down by Cohen's men.
Buried under three layers of tan putty, Penn overplays with a vengeance – coiled and barking, he may be the only actor who understands how the final product was going to play – his outburst scenes and gruesome murders of foes and compatriots alike play like cut scenes from a videogame in their lack of variation and insistence on expository dialogue. Unseasoned writer Will Beall's leaden purple prose reduces the events of Paul Liebman's pulpy true crime book to embarrassingly po-faced exchanges between uncomfortable actors trying to appropriate the innate coolness and sensuality of Bogart, Cagney, Bacall, or Davis but with none of the witty acknowledgment of their audience those actors perfected.
Slick to a fault, Fleischer is from the "every hair perfectly placed" school of technique; nothing feels vital or consequential in Gangster Squad. It also has an uneasy streak of conservative approbation for a police department which was notoriously corrupt, racist, and enabling to the criminal element in Los Angeles for decades to come (but everyone looks great in their nifty fedoras and slinky dresses). Fine by me if the movie wants to avoid hard truths in favor of fantasy fun, but there's no need to celebrate the often fascist behaviors of law-enforcement in such black-and-white terms.
The evergreen gangster genre has experienced much evolution from the vicarious thrills of the 1930s morality plays churned out under the Warner Bros. shield, playing loose with facts and cementing the outlaw as what critic Robert Warshow famously saw as a "tragic hero" playing to the frustrations of a country in the throw of economic depression and alcohol prohibition. Gangster movies (and later the more psychological film noir) gave crime an unearned poetry that the street thugs and sadists of the time did not deserve. Gangster Squad lives in this outmoded, simplistic fantasy of cops and robbers while other entertainments like Boardwalk Empire and L.A. Confidential challenge the comic book history of their forebears.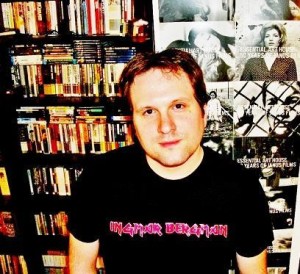 Gregory Fichter
Greg toiled for years in the hallowed bowels of the legendary Thomas Video and has studied cinema as part of the Concentration for Film Studies and Aesthetics at Oakland University. He has hosted the cult movie night "Celluloid Sundays" at The Belmont in Hamtramck, MI. and enjoys everything from High Trash to Low Art.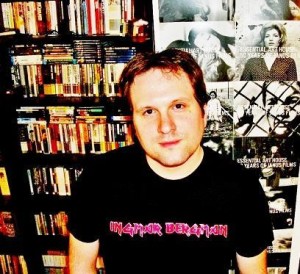 Latest posts by Gregory Fichter (see all)