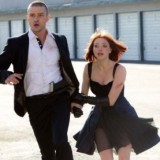 Movie Review: In Time
Posted October 28, 2011 by
Jenna T.
The characters in the new movie In Time must race against the time they have left in order to acquire more time which will extend their lives. It is a race against time, with a bit of a twist. Sound confusing? It is. While not quite as hard to follow as Inception, In Time definitely follows a mainstream sci-fi trend that seems to be happening in Hollywood.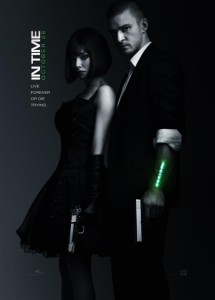 In this film's futuristic society, time is the new currency and everything down to a single cup of coffee has a price tag measured in minutes of one's life. After a person turns 25, his time clock starts ticking down from the one year in its bank which needs to be replenished just so that he may stay alive. That's right, people can actually hear their death clocks tick. Talk about stressful. Naturally the problem with knowing when you are going to expire is that you can never relax. The poor spend every precious second trying to acquire more seconds and the rich spend their time trying to protect their fortunes which is the key to their immortality. Will Salas (Justin Timberlake) is one of the lower-class citizens just trying to make it day by day (literally). Through a bizarre inheritance, Will finds himself with a century of time with which he uses to travel to the very wealthy time zone of New Grenwich and uncover the truth as to how the rich can remain so, and that is by controlling the economy thus making the poor expendable. In New Grenwich he meets Sylvia Weiss (Amanda Seyfried), the daughter of the wealthy Phillipe Weiss (Vincent Kartheiser), and she joins him on his crusade. She is the proverbial unhappy rich girl who has a yearning for justice and the need to rebel and challenge her father's control.
Together Will and Sylvia have kind of a Bonnie and Clyde/Robin Hood type of adventure where they steal from her father to provide for the poor. They have to continuously dodge the Timekeepers which is their society's equivalent of law enforcement, in order to continue on their mission of mercy. Not surprisingly, their journey is filled with numerous action and chase scenes and, not to mention, one-liners which Timberlake nails in typical action hero fashion. Seyfried of course has to dodge bullets, steal cars, and literally run through the time zones all while wearing a mini-skirt and two inch stilettos. Their performances are suitable for what the film calls for, but you can't help thinking that any handsome actor and beautiful actress could replace them. My favorite performance in the movie by far was delivered by Cillian Murphy as Raymond Leon, the head Timekeeper determined to stop Sylvia and Will. His portrayal of Leon as the Timekeeper out to dispense his own version of justice, was authentic with a dark eeriness that only he could provide.
In Time should do well as viewers will undoubtedly be curious about the movie's premise. It does its part to deliver a far-fetched action thriller that is pure entertainment. It's safe to say that viewers know what they are getting into with this film and it meets those expectations.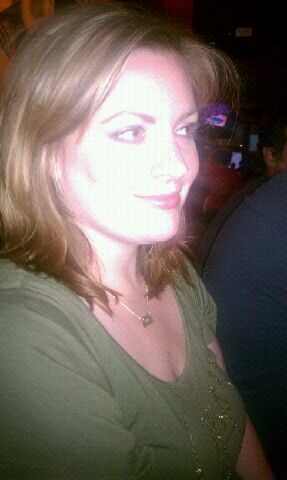 Jenna T.
Jenna is a lifelong moviegoer turned film-lover beginning at a very early age. (She grew up during the E.T. era of course). She believes that movies are a part of a person's biography that in addition to entertainment can provide many memorable experiences as well. Jenna is a lover of all movie genres, and will most likely be found at smaller audience released pictures as opposed to the big Hollywood blockbusters. When she's not watching movies or her two kids Charlie, 4, and Megan, 1, she is working on completing her very first screenplay.