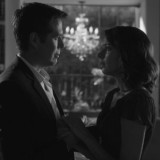 Movie Review: Much Ado About Nothing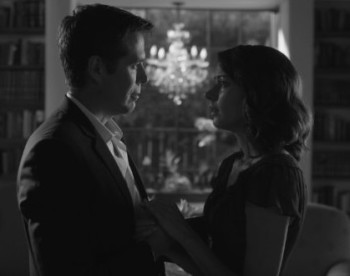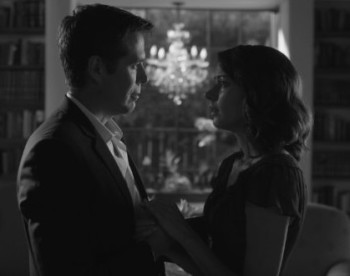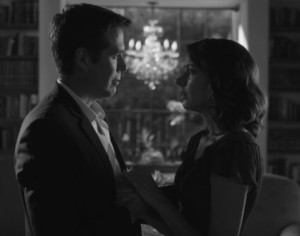 :
:
:
:
:
Genre
:
Comedy
What We Liked
The ensemble of characters are brought to life by a great group of actors.
What We Didn't Like
The text of the play has been abridged slightly for this movie.
Posted June 23, 2013 by
Timothy Monforton
I don't think anyone will disagree that William Shakespeare is the greatest and most influential writer in the history of the English language. He created numerous words and phrases that are still in common use today, his plays provided the inspiration for countless stories across all forms of media, and his name is still instantly recognizable almost four hundred years after his death. Now, acclaimed geek writer/director/producer Joss Whedon, who brought us the television series Buffy the Vampire Slayer, Angel, Firefly, and Dollhouse, and helmed the superhero blockbuster The Avengers (2012), has brought us a new film version of the Bard's beloved comedy Much Ado About Nothing. Whedon shot this film in and around his home in California over a period of twelve days, while on a vacation he took during the post-production for The Avengers. You might not expect much from a film made under such a quirky set of circumstances, but the results are truly incredible. I am not exaggerating when I say that this is the best movie I've seen so far this year. Much Ado About Nothing is an amazing film, and I honestly can't recommend it highly enough.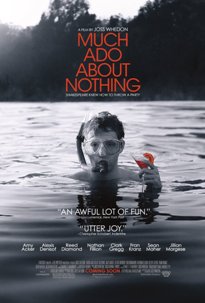 Leonato (Clark Gregg), the governor of Messina, is visited by his friend Don Pedro (Reed Diamond), who is returning from a victorious campaign against his rebellious brother Don John (Sean Maher). Accompanying Don Pedro are two of his officers: Benedick (Alexis Denisof) and Claudio (Fran Kranz). While in Messina, Claudio falls for Leonato's daughter Hero (Jillian Morgese), while Benedick verbally spars with Beatrice (Amy Acker), the governor's niece. The budding love between Claudio and Hero prompts Don Pedro to arrange with Leonato for a marriage. In the days leading up to the ceremony, Don Pedro, with the help of Leonato, Claudio, and Hero, attempts to sport with Benedick and Beatrice in an effort to trick the two into falling in love. Meanwhile, the villainous Don John, with the help of his allies Conrade (Riki Lindhome) and Borachio (Spencer Treat Clark), plots against the happy couple, using his own form of trickery to try to destroy the marriage before it begins. A series of comic and tragic events may continue to keep the two couples from truly finding happiness, but then again perhaps love may prevail.
The ensemble of characters are brought to life by a great group of actors, many of whom have previously worked with Whedon on his many earlier projects. Amy Acker, who played the character of Fred on Angel and also showed up on Dollhouse, is amazing as Beatrice, shooting off acidic remarks while still being so charming that the character is never unlikeable. Similarly, Alexis Denisof, who played Wesley on Buffy and Angel, and showed up on Dollhouse and in The Avengers, is a perfect Benedick, another master of verbal warfare capable of giving as good as he gets. Nathan Fillion, who previously worked with Whedon on Buffy, Firefly, and Dr. Horrible – although he's currently best known as the male lead on the ABC series Castle – absolutely steals the show as Dogberry, the self-satisfied, comically incompetent chief of the citizen-police. Fillion gets to display his comedic chops to their fullest extent here, and he is at the center of many of the most laugh-out-loud moments in the film. Clark Gregg, best known as Agent Coulson in the various Marvel Cinematic Universe films, is fatherly and hilarious as Leonato. Reed Diamond and Fran Kranz, who both worked with Whedon on Dollhouse, capture the appropriate combination of goodhearted and befuddled as, respectively, Don Pedro and Claudio, the nobles who are unwittingly used by Don John to further his plot. Sean Maher, who was so nerdy and endearing as Simon Tam on Firefly, does such a good job as the evil, scheming Don John that I just wanted to reach into the screen and punch the smug bastard in the face. Newcomer Jillian Morgese, who made a brief appearance in The Avengers, does a great job with the part of Beatrice's cousin Hero, managing to make the virtuous innocent still interesting when she's up against all these snarkers and schemers. Spencer Treat Clark and Riki Lindhome are good as, respectively, Borachio and Conrade, Don John's followers that he has do his dirty work. And Ashley Johnson, who appeared on Dollhouse, had a brief cameo in The Avengers, and most recently played Ellie in the video game The Last of Us, has some great moments as Margaret, Hero's waiting-gentlewoman who ends up getting roped into the various schemes.
I can understand why some Shakespeare enthusiasts might be annoyed by the idea of placing Much Ado About Nothing in a contemporary setting, but that is the source of much of this film's charm and spirit. While some might find the contrast between the antiquated language and the modern backdrop jarring, I loved it. Whedon also makes great use of camera movement and shot composition, and while the film is based on a play, it never feels stage-bound. While the story is certainly a comedy, it also contains some darker elements, which fits perfectly with Whedon's trademark style of juxtaposing comic and tragic elements close together. For anyone who's ever read a Shakespeare play and found themselves confused by the language, have no fear. When you hear the words actually being performed by this talented group of actors, their meaning is abundantly clear. Considering that Shakespeare originally wrote his plays to be entertainment that all audiences could enjoy, I feel like the Bard would approve of what Joss Whedon has done here.
Of course, no movie is perfect, but I've actually had to think long and hard to find flaws in this film. Although they have stayed true to Shakespeare's original dialogue, the text of the play has been abridged slightly for this movie. Most notably, two supporting characters – Balthasar, a singer and attendant of Don Pedro, and Antonio, who is Leonato's brother and Beatrice's father – have been completely cut out. Personally, I would have preferred it if they and their scenes had been retained. And considering the movie is only 108 minutes long, I don't think that leaving the excised material in would have slowed the pacing down or made the film seem like it was dragging. But if the biggest knock you have against a film is that you wish there was more of it, I think that speaks volumes about what a good thing you have on your hands.
I love Whedon, and I love Shakespeare, so I went in to Much Ado About Nothing expecting that I would enjoy it, and the movie was still better than I expected. It didn't meet my expectations, it shattered them. The Bard of Avon and the king of geekdom have come together, and the result is a truly wonderful piece of cinema. If there's any sense in the world, I hope this movie will be showing up on a lot of "Best of 2013" lists at the end of the year. In a summer full of sequels, superheroes, and special effects, what may be the greatest cinematic treat available is a little black-and-white movie based on a Shakespeare play. If you want romance, if you want comedy, if you want a timeless story about that crazy little thing called love, look no further than Much Ado About Nothing.
Latest posts by Timothy Monforton (see all)