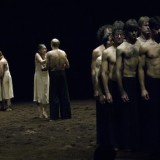 Movie Review: Pina
Posted January 27, 2012 by
Gregory Fichter
This is dance on film as it should be. There are of course countless movies with dancing as the focus, though few have the courage to let a camera roll uninterrupted and with little to zero editing so that we may simply watch the spectacle of the human body in rhythmic, athletic exertion; add to this intense gaze the most justifiable use of 3D in cinema and you have the stark, pulsing documentary Pina – German director Wim Wenders's rapturous tribute to the late modern dance icon Pina Bausch.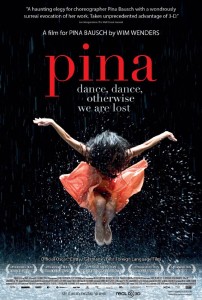 Presented as a series of performance pieces focusing on some of the choreographer and performer's most celebrated works, Wenders's camera fixates briefly on members and mourners from her company reflecting on the intense push-and-pull at the heart of Bausch's artistic philosophy before allowing us to practically step onstage and interact with these haunting, elemental performances.
The curtain opener is a volatile rendition of Stravinsky's torrid "Rite of Spring" and we sit marveling at the spatial qualities which are heightened by the 3D technique. Rarely has the intention of a stage performance (distance, presence, direct communication) been so freed by a cinematic choice; we feel the anxious desires of the dancers in character as a primitive, erotic game is played out with one man and several diaphanous women. Pina's is an ugly sort of dance that conveys emotional honesty while eschewing the premium placed on gracefulness in the bourgeois high arts. She is like Picasso dismantling the comforts of recognizable beauty in favor of a rough-hewn presentation of ecstatic bodies acting out ancient desires and horrors.
After the solemnity of the first number, things lighten up when Wenders takes his cameras out to both exotic and familiar locales to play the dancers against incongruous backgrounds of cityscapes and tramways – silly skits on an elevated tram and a quick bit of vaudeville featuring a woman with seemingly huge muscles act as charming palate cleansers between the heavier numbers. Throughout Pina we catch fleeting glimpses of the artist through archival footage that reveals little about the subject; Wenders's is content to leave her enigmatic while revealing her nature through the other dancer's devotion to their mentor.
Bausch herself performed the centerpiece number, 1978's "Café Muller," in Pedro Almodovar's Talk to Her, which here is recreated by some of the surviving troupe. A fascinating piece dealing with cosmic frustrations between men and women, the dance is a hypnotic, repetitive minefield of chairs on a bare stage with actors in various states of malaise and madness enacting a series of romantic tragedies with Henry Purcell's discordant, ominous music urging the whole thing along. You may not catch all of this (the narrative is certainly elusive) but you feel it and that is the whole point of Wenders's inspiring project.
At times approaching science fiction, the final sections could be prehistoric tribal rites honoring the basic earthly elements with a stunning dance around a huge rock on a flooded stage and, finally a procession of people across a barren landscape (reminiscent of Ingmar Bergman's "Dance of Death" in The Seventh Seal) endlessly miming the passing, ever-recurring seasons that mark our time on earth. Pina Bausch's time here ended in 2009, but Wim Wenders's vivid film Pina should be a key factor in extending her legacy to a broader audience.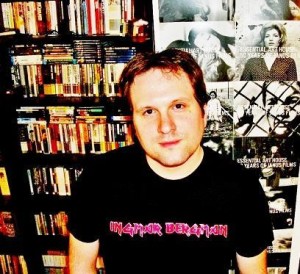 Gregory Fichter
Greg toiled for years in the hallowed bowels of the legendary Thomas Video and has studied cinema as part of the Concentration for Film Studies and Aesthetics at Oakland University. He has hosted the cult movie night "Celluloid Sundays" at The Belmont in Hamtramck, MI. and enjoys everything from High Trash to Low Art.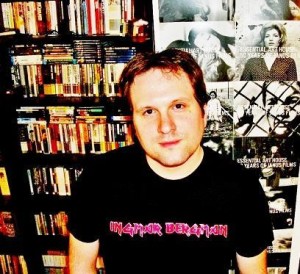 Latest posts by Gregory Fichter (see all)