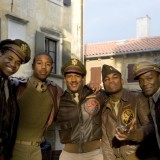 Movie Review: Red Tails
Posted January 21, 2012 by
Driadonna Roland
The inherent issue with having an all-black cast is mainstream society will label Red Tails a "black" movie. This would be a grave disservice. The story of the Tuskegee Airmen, or the 332nd Fighter Group of the United States Army Air Corps, is an integral part of American history. Because of their successes, World War II could not have been won, therefore making Red Tails a movie about the freedom of our nation – and many others.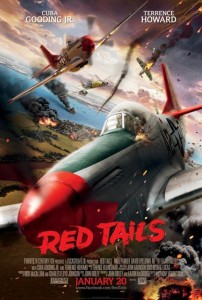 With that out of the way, if you're looking for a historic representation of the U.S. Military's first all-black group of airmen, Red Tails is not that movie. Try a documentary, or hell, I'm inclined to believe the 1995 movie The Tuskegee Airmen (which also featured Cuba Gooding Jr.) might have been more accurate. This is an entertainment flick, complete with digitized dogfighting, a romance between a soldier and local Italian woman and cheesy phrases in battle such as, "Ha, ha! Watch out, Mr. Hitler!"
Red Tails opens in Italy in 1944. Given this is a time when blacks aren't deemed by their own country to have the intellect or courage for battle, the soldiers of the Tuskegee (Alabama) training program are relegated to trivial tasks like convoy cover, and given hand-me-down-airplanes to do so. Their Col. A.J. Bullard (Terrence Howard, doing his best Morgan Freeman impersonation) is Stateside, fighting for real missions and equipment for his men to prove their mettle. Maj. Emanuelle Stance (Cuba Gooding Jr.) oversees the unit on base as some sort of wise old owl, short on words, but always on hand with a wink and a pipe.
At the center of the movie is the friendship/conflict between the scholarly, straight-laced mission leader Marty "Easy" Julian (Nate Parker) and talented pilot Joe "Lightning" Little (David Oyelowo). The former takes to alcohol to deal with the pressure of living up to his father's expectations; the latter's a showboat and a hothead who's easily distracted by the fairer sex. The weight of the film leans heavily upon this talented – and handsome – duo, and they don't drop the ball. The action is plentiful as well. We know from history that the Tuskegee Airmen were skilled at completing their missions with little losses, but the dogfights are exciting to see nonetheless. The way these men had each other's backs is inspiring and tucks some education in here between the entertainment.
Alas, I expected a little more from the screenplay, as it was partially written by The Boondocks comic creator Aaron McGruder. The viewer won't get too emotionally invested with this one, but it's decent enough, certainly no worse than Pearl Harbor, as far as war movies go. I credit George Lucas for taking a chance on a film filled with a relatively unknown Black cast. Black audiences will recognize the actors from a smorgasbord of projects, including TV shows like The Wire and Moesha, but aside from Howard and Gooding, there is no real star power to pull in lazy audiences who gravitate toward big names first and content second. I appreciate that, actually. Here's to hoping these young men go on to find more roles that broaden Hollywood's picture of what Black men can portray.
Random Notes:
Of course Gerald McCraney, a.k.a. "Major Dad" would make an appearance – adds more kitsch.
R&B singer Ne-Yo's mush-mouth Southern accent was distracting, not humorous.
It'd be nice to see Nate Parker – also of The Great Debaters – in something besides a period movie. He has the look and feel of a leading man.