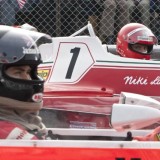 Movie Review: Rush
What We Liked
Talented cast giving great performances; smart writing combined with great direction; awesome racing action; perfectly captures the feeling of 1970s setting
What We Didn't Like
Some character beats are repeated unnecessarily
Posted September 29, 2013 by
Timothy Monforton
Given that both the gasoline-powered internal combustion engine and the motion picture camera came to be at almost the same time, and given that both cars and movies have gone on to hold such special places in American culture, it's no wonder that Hollywood has had a long love affair with automobiles and racing. From the silent film Racing Hearts (1922), to Disney's Herbie franchise, to the late Tony Scott's Days of Thunder (1990), to Universal's Fast & Furious series, almost as long as there have been movies, there have been movies about cars. Now, award-winning director Ron Howard has entered the automotive film waters with Rush, a biographical action-drama about the 1976 Formula One season and the rivalry between drivers James Hunt and Niki Lauda. Rush is a very good movie, and definitely one to keep an eye on as we head into awards season.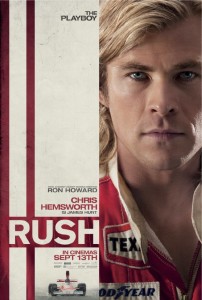 After they first meet at a Formula Three race in England, brash, headstrong Englishman James Hunt (Chris Hemsworth) and methodical, brilliant Austrian Niki Lauda (Daniel Brühl) go on to have one of the great rivalries in sporting history. Though the two men couldn't be more different in personality and style, they are both among the most skilled racing drivers in the world. Their rivalry finally comes to a head during the astonishing 1976 Formula One season; one in which both men have to face numerous personal and professional crises, forcing them to realize what they are willing to sacrifice in order to win. Even after Lauda is nearly killed in a catastrophic crash during the German Grand Prix at the Nürburgring, he returns to face Hunt in the final race of the season at Fuji Speedway in Japan, where one of them will walk away as World Champion.
One of the biggest factors in why Rush succeeds is the excellent cast. Ever since his breakout role as the title character in Thor (2011), people have been describing Chris Hemsworth as a natural-born movie star, and here he gives a truly award-worthy performance as James Hunt. Hunt is shown to be a frequently irresponsible and self-destructive person, but because of Hemsworth's natural charisma and star appeal, we're willing to go along with the character no matter what. Equally worthy of praise is Daniel Brühl as Niki Lauda, who makes an excellent counterpoint to Hemsworth as Hunt. Where Hunt is loud and brash, Lauda is quiet and meticulous. Brühl does a great job acting under what must have been some complex prosthetic makeup for the scenes after Lauda's horrific crash.
Hemsworth and Brühl are backed up by a solid supporting cast. Olivia Wilde, who is a very talented actress as well as one of the most beautiful women alive today, does a great job with her relatively small role as model Suzy Miller, Hunt's first wife, serving to put a human face on the consequences of Hunt's reckless lifestyle. Similarly, German actress Alexandra Maria Lara gets the most out of her small role as Marlene Knaus, a socialite who Lauda develops a relationship with and eventually marries. Pierfrancesco Favino, who previously worked with Ron Howard in Angels & Demons (2009), is a lot of fun as Clay Regazzoni, a Swiss driver and teammate of Lauda. Natalie Dormer from The Tudors and Game of Thrones has a brief role as Gemma, a nurse James Hunt hooks up with early in the film. The always-reliable character actor Colin Stinton, who you might remember from Tomorrow Never Dies (1997) and The Bourne Ultimatum (2007) among many other roles, has a brief supporting part as Teddy Mayer, one of the McLaren representatives who agrees to sponsor Hunt. And the cast is rounded out by a number of familiar names from British television, including Stephen Mangan, David Calder, Julian Rhind-Tutt, and Jamie de Courcey.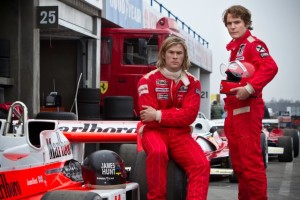 Few people in Hollywood have had a career as long or as varied as Ron Howard. After playing a lead character on two long-running sitcoms, he has gone on to a very successful career as a director, been nominated for and won multiple awards, and helped create the series Arrested Development, which has been acclaimed as one of the greatest comedies in television history. Something I admire about Howard is how he's largely managed to avoid being pigeonholed into a single type of film. He's more like the journeyman directors of old, working in many different genres and styles, and while he doesn't always succeed, you can be sure that he'll put in a solid effort. But make no mistake; Howard has succeeded with flying colors here. Rush is the closest thing to a straight-up action movie that Howard has done since Backdraft (1991), and after he did such a good job here, I wouldn't mind him getting back into that arena of filmmaking. Of course, Howard is also working from an excellent screenplay by Peter Morgan, who previously worked with the director on Frost/Nixon (2008). All I can say is that I hope Howard and Morgan will collaborate again sometime soon.
As for the actual race sequences, they are absolutely thrilling, and give a truly visceral sense of how incredibly dangerous this sport can be. As these huge, overpowered machines – which Hunt bluntly describes as "bombs on wheels" at one point – barrel down the track at breakneck speeds, you are on the edge of your seat, because you know that the smallest mechanical failure or the briefest moment of driver error could be fatal. Howard and his crew did an excellent job shooting the races, as did editors Daniel P. Hanley and Mike Hill in cutting the footage together, and thankfully they never fall into the trap of relying too much on tricks like shaky-cam or rapid-fire cutting. While the car chases in movies like the Fast & Furious series may be fun to watch, they look like episodes of Wacky Races compared to the nail-biting intensity of the racing scenes in Rush.
Howard, along with his cinematographer Anthony Dod Mantle and production designer Mark Digby, has done a great job of capturing the aesthetic of the film's 1970s setting. While there are some era-specific costumes and set dressings which might look gaudy or outrageous to modern eyes, the film thankfully doesn't call attention to these or play them for humor; instead, it's just a matter-of-fact statement that yes, some people did dress like that back then. In a nice touch, the color of the image has been de-saturated slightly, which, combined with a mild grain effect, really gives Rush some of the look of an actual film from the 1970s. And all this is topped off with a great soundtrack of period-appropriate hits, including songs by Dave Edmunds, Steve Winwood, Sweet Sensation, Thin Lizzy, Jimmy Cliff, and David Bowie.
But as good as the film is, it does have a couple of flaws which detract from the overall high quality. The movie spends a bit too much time reiterating that Hunt is often irresponsible and that Lauda is overly-blunt and undiplomatic. There's only so many times we can see Hunt drink too much and sleep around, or see Lauda offend someone by refusing to sugarcoat his opinions, before it starts to feel repetitive and unnecessary. A montage at the end of the movie uses actual period footage of the real James Hunt and Niki Lauda, which is a little jarring after seeing them played by the actors for the whole movie.
When I first sat down to watch Rush, I expected I would probably enjoy it, based on the talent of the people involved and my interest in the subject matter. But to my pleasant surprise, I ended up loving the film, and I feel safe in saying that it will probably be in many "Best of 2013" lists at the end of the year. My only worry is that, with the movie being released in September, it might end up being largely left out in the cold by the time awards season rolls around. But given how good the film is, and what a liked and respected figure Ron Howard is in Hollywood, I hope that won't end up being the case. If you're looking for a great real-life drama with a great cast, a smart script, and some awesome racing action, then you should make haste to your local theater and check out Rush.
Latest posts by Timothy Monforton (see all)