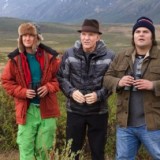 Movie Review: The Big Year
Posted October 16, 2011 by
Dane Jackson
Based on the book by the same name, The Big Year follows three avid birders as they look to complete the ultimate (informal) competition for North American birders. The Big Year is a competition between birders to see who can see (or hear) the most birds in a single calendar year. Director David Frankel (Marley & Me) leads this expert cast through a year of doing whatever it takes to see the most birds.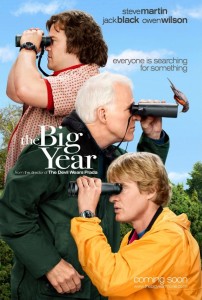 While the idea of watching a movie about a birding competition may sound odd for most, the three leads (Owen Wilson as Kenny Bostick, the reining Big Year record holder; Steve Martin as Stu Preissler, the overworked executive who finally retires to follow his dream of completing a Big Year; and Jack Black as Brad Harris, the nuclear power plant operator with big plans and a small budget) have great chemistry and make the movie a fun, albeit charmingly harmless (and dare I say unassuming) comedy.
The movie is just what is says it is. It follows the three leads across the country for an entire year as they look to one up each other and see the most birds. Bostick is trying to preserve his record (while allowing his marriage to fall apart in the process), while Brad and Stu look to unseat him as the best birder in America. Like in the book, director Frankel holds off on the Big Year reveal until the end, which offers up some of the only tension the movie delivers. Sure, each of the three birders profiled have real life conflicts that get in their way throughout the year, but nothing to really make you feel anxious or root for one birder over the other.
After Marley & Me, Frankel has experience working with a story where the connection between human and animal is a key element. He does a good job of portraying the passion birders have for their calling. He doesn't waste time explaining the sport because, frankly, it really doesn't matter. Also, most of the exterior shots involved with watching everyone watch birds are absolutely breathtaking.
While The Big Year doesn't pack the emotional punch of Marley & Me, it's still a movie that is one that most families would be able to enjoy together (I promise, no dogs get euthanized at the end of The Big Year). My biggest gripe with the movie though is that I thought Martin, Wilson, and Black were wasted. In fact, the trailer even has a line in it that says "when it comes to comedy go big or go home." With a line like that, and three comedic heavyweights (plus Tim Blake Nelson and Jim Parsons in supporting roles), I was expecting all three of them to come with the funny. Unfortunately, none of them do. Instead of a 100-minute yuck-fest, The Big Year settles for polite chuckles and three characters trying to find themselves. With everyone involved with the movie, it's a big shame (bad pun intended) they didn't follow their own advice and go big.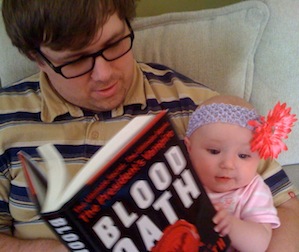 Favorite Director is Christopher Nolan. Favorite Color is Green. Favorite Quote is "Alright you Primitive Screwheads, listen up! You see this? This...is my boomstick!"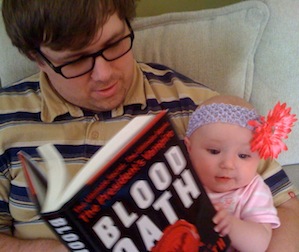 Latest posts by Dane Jackson (see all)