Non-Stop Blu-ray Giveaway
CinemaNerdz is proud to offer our readers a chance to win one of two Blu-ray/DVD/Digital Combo copies of Non-Stop starring Liam Neeson.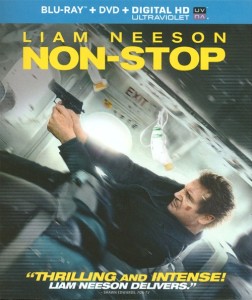 For your chance to win one of the two discs just look for the "giveaway" box further down on this page.
There you'll be directed to a variety of methods by which you can enter the contest. You'll be asked to provide a valid email address, like us on Facebook, and follow us on Twitter, and Tweet the contest. That's it! That's all you have to do to enter. We'll contact you to let you know if you've won one of the prizes. But hurry, because the contest ends at 12:00AM on Monday, June 23rd!
ABOUT THE FILM
NON-STOP: Global action star Liam Neeson stars in this action thriller played out at 40,000 feet in the air. During a transatlantic flight, U.S. Air Marshal Bill Marks (Neeson) receives a series of cryptic text messages threatening to kill a passenger every 20 minutes unless $150 million is transferred into an off-shore account. With the lives of hundreds of passengers hanging in the balance, Marks must use every nuance of his training to uncover the killer traveling on the aircraft. Co-starring Julianne Moore, Michelle Dockery, and Lupita Nyong'o.
Enter the contest below!