Posted
July 10, 2013 by Gregory Small
in Features
The Muse in Film
"The history of cinema is boys photographing girls." – Jean-Luc Godard
Since D.W. Griffith discovered stage actress Lillian Gish and immortalized her in dozens of silent movies, film directors, like other artists before them, have looked for inspiration in the muse. There is no more magical relationship in the world of art than that of the muse and the artist and there is no more mysterious figure in the world of art than the muse. The aura around the muse has been the subject of books, poems, paintings, and songs. The muse/director relationship is a fragile, delicate thing that often brings out the best in both. While it's resulted in some brilliant movies, it often ends in ruin.
The muse stirs our imaginations and recalls the mythology of Apollo's ensemble of feminine beauty dressed in white that inspired artists and served the gods. And while there have been many successful male actor/director relationships, they are far less interesting and lack the enigma of the male/female relationship.
The following list explores the muse in film and is made up of some of my favorite star/director collaborations and their films. It's a mix of classic, foreign, modern cinema, and cult. Five of the relationships were personal and all five of them ended badly. That most of the females end up as tragic muses is all part of the mystique of the muse.
Other notable pairings that did not make this list include: Katherine Hepburn and George Cukor (9 films), Liv Ullman and Ingmar Bergman (9), Helena Bonham Carter and Tim Burton (7), Penelope Cruz and Pedro Almodóvar (4), and Ingrid Bergman and Roberto Rossellini (6).
____________________________________________________________
Anna Karina / Jean-Luc Godard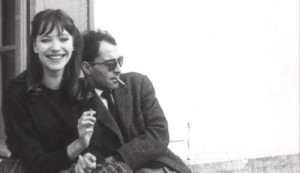 Godard discover Karina when she was only 19 and was so enchanted that he wrote a part for her in Breathless, his first film. She declined because the role required nudity, but the two hooked up a year later for their first film together.
They married less than a year after that during the production of their second film. A leader of the French New Wave, Godard is considered one of filmdom's greatest directors. Karina, though originally from Denmark, reached icon status in France.
There may be no more perfect archetype of the muse/director than these two. She was a model, cover girl, and artist and he was one of the French film critics who went on to direct their own films and make history. Their often stormy off screen life had no affect on Godard, the director; Karina was still his muse. She was the star and he photographed and directed her as if she were the only person in the film.
They divorced after six years of marriage during the production of Alphaville, their last film together. Their seven films are Godard's, and Karina's, best work.
Other notable films: A Band Apart, A Woman is a Woman, My Life to Live
Marlene Dietrich / Josef von Sternberg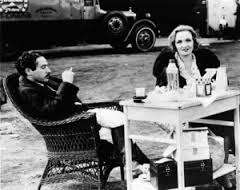 Every legend starts somewhere and Marlene Dietrich's began with Josef von Sternberg. She was a chorus girl on the Berlin cabaret scene and had done some small roles in silent films. Then came von Sternberg and Blue Angels, the film that propelled Dietrich to international stardom. She went on to do six more films with von Sternberg.
Von Sternberg was exceptionally skilled and controlled all aspects of his film down to set decoration and costumes and is considered a genius of camera movement, lighting, and photography. The soft light he put on Dietrich, and the shadows cast on her face gave her an aura that no other star had ever had. While she was his muse, he was her Svengali. Von Sternberg coached her as an actress on and off the set, affecting her appearance and turning her into a femme fatale. His obsession with her and his desire to control her was futile as the sexually insatiable Dietrich wanted none of it and broke von Sternberg's heart like so many others.
The seven movies they did together are considered among the most visually stylish ever made. After Paramount fired von Sternberg in 1935, they never worked together again and neither reached the same heights that they had as director and muse.
Other notable films: The Scarlett Empress, Shanghai Express, Morocco
Monica Vitti / Michelangelo Antonioni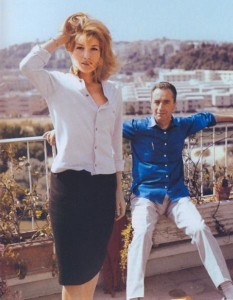 No director captured the feeling of anxiety in post-WWII society better than Michelangelo Antonioni. He foresaw and dramatized, in a visually beautiful way, humanity's coming struggle with new technology. How we cope with spiritual emptiness and our alienation in the modern world is the subject of four remarkable films made by the two between 1960 -1964.
In Vitti, Antonioni found the ideal actor to reflect these new emotions. She was cool, detached, both dispassionate and passionate, world weary, and discontent. She was the beautiful victim of Antonioni's world. Her characters were distant, seldom smiling, and never happy in love. Vitti was the perfect actor for Antonioni.  The two had a ten-year personal relationship that ended in 1967. Despite working with top directors after their split, Vitti was never as good as she was with Antonioni.
Notable films: L'Avventura, L'eclisse, Red Desert
Soledad Miranda / Jess Franco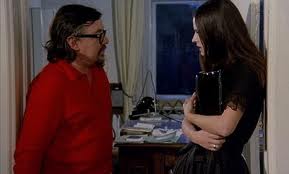 The muse of the director who helped bring euro-trash and sexploitation into our vocabulary was a young singer and dancer from Spain. Miranda and Franco made seven films together that have made them both cult heroes in Europe and the United States.
Franco's muse had already done several films in Spain before they teamed up for their first film. Franco transformed her from a bit player in Spanish Westerns to the pale, haunted, mysterious icon of his bizarre horror films. Her tremendous screen presence and beauty were exactly what Franco needed for his films that are obsessed with the mysteries of life and death.
Tragically, Soledad Miranda died at the age of 27 in a car accident in Lisbon after receiving a movie contract that would have made her a star in Europe. In all of the films she did for Franco her character dies. Her untimely demise gives her and her characters the ultimate doomed presence.
Notable films: Vampyros Lesbos, She Killed in Ecstasy, Count Dracula
Mia Farrow / Woody Allen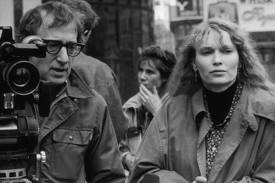 Even without the much publicized scandal that ended their relationship, Mia Farrow and Woody Allen remain one of the strangest muse/director relationships of all time.
She had been married twice before to Frank Sinatra and Andre Previn and Allen had previous relationships with two of his stars, Louise Lasser and Diane Keaton. She and Allen never married, lived in separate apartments on Central Park in New York, and had a child together to go along with the brood that Farrow brought with her. They had a personal and professional relationship that lasted fourteen years and produced twelve films. Allen made only one film during this time without her. They also acted together in six of the films.
Farrow seemed to be a natural for the neurotic characters Allen wrote – or that he wrote specifically for her. The number of films as well as their wide subject range makes this an exceptional collaboration.
Notable films: The Purple Rose of Cairo, Hannah and Her Sisters, Crimes and Misdemeanors
The Blondes / Alfred Hitchcock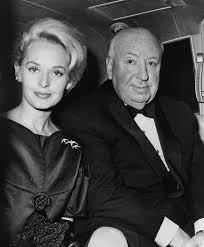 Hitchcock liked strong female leads and his heroines were cool, reacted well to danger, and had a bad girl side to their otherwise proper demeanor. He loved blondes: Janet Leigh, Eva Marie Saint, Grace Kelly, Marlene Dietrich, Ingrid Bergman, and tragically Tipi Hedren. For their films they were beautifully dressed, coiffed, and made-up. The look inspired style and fashion that has lasted until today: Angora sweaters, skirt suits, gloves, handbags, and scarves.
Hitchcock cast Tippi Hedren to play the lead in The Birds, and a year later in Marnie. The off-stage relationship became unbearable for Hedren, who was fighting off Hitchcock's increasingly obsessive advances while trying to act in his films. When Hedren wanted out, Hitchcock, who owned her contract, threatened her with the ruin of her career. The story of their relationship was the subject of a recent HBO movie, The Girl.
In Hitchcock's best film, Vertigo, Jimmy Stewart plays a private detective who is obsessed with a mysterious, beautiful blonde played by Kim Novak. For Hitchcock, art was imitating life.
Other notable films: North by Northwest (Eva Marie Saint), Psycho (Janet Leigh), Notorious (Ingrid Bergman)
Laura Dern / David Lynch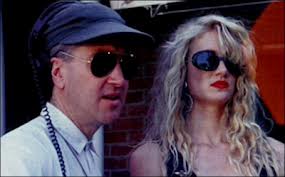 All of Lynch's films are on the strange side and tend to leave the audience feeling a tad confused and a bit queasy. Lynch's characters often require an actor to play dual roles, an affect that only adds to the fascinating disorientation of his films. No one has been better for Lynch than Laura Dern. She has played the girl next door, the lover on the run, and the actress who becomes lost in the character she is playing in a film.
It can't be easy to act in a Lynch film and playing someone undergoing a schizophrenic identity switch can't be too easy to pull off either. Dern is remarkable in Inland Empire and also has a co-producer credit. She has starred in three of Lynch's ten feature-length films. They are rumored to be re-uniting for another film that is still in the script stage – whatever that means to Lynch.
Films: Blue Velvet, Wild at Heart, Inland Empire
Uma Thurman / Quentin Tarantino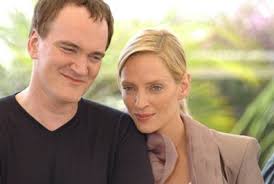 Even though they have done only three films together (of Tarantino's nine), Thurman is Tarantino's most important actress and the star of his most acclaimed films. Though she had done a lot of films, Thurman hadn't had a break out film before working for Tarantino. Pulp Fiction turned her into an international star and sent him into the stratosphere of top directors.
Thurman worked constantly and had several good roles over the next ten years including the part of Emma Peel in The Avengers and Fantine in Les Miserables. She reunited with Tarantino in Kill Bill to play what is her iconic role – The Bride – in the two part film. When Thurman became pregnant during filming Tarantino halted production rather than recast, taking the time to continue writing the film. "She's my muse," he said when asked why he didn't recast. Thurman helped develop the character and shares a writing credit on the film.
Tarantino has been coy about any personal relationship. Knowing good pub when he sees it, Tarantino would only say, "I'm not saying we have, and I'm not saying we haven't."
Films: Pulp Fiction, Kill Bill Vol.1, Kill Bill Vol. 2
Gong Li / Zhang Yimou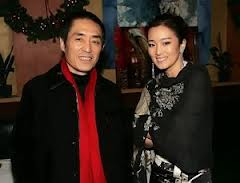 The rising popularity of Chinese cinema in the world has given us their two biggest stars ever. Zhang and Gong, more than anyone else, have brought Chinese movies to the West.
Zhang discovered Gong while she was a student at the Central Academy of Drama in Beijing and cast her as a lead in his first seven films. They had a personal relationship that lasted until production of their seventh film, Shanghai Triad (1995). All their films have come under criticism by a Chinese government unhappy with Zhang's depiction of Chinese culture and politics. Gong is remarkable playing roles from a young concubine to a peasant woman who goes up against the local communist bureaucracy. She too has also come under fire in her country for being too Western and having "gone Hollywood."
After their relationship ended, Zhang's films have changed to what some say is a more commercial cinema that is more sensitive to the Chinese government. He's also become more cautious of the muse relationship saying, "I don't think I can repeat what I did with Gong Li."
Other notable films: Raise the Red Lantern, The Story of Qiu Ju, To Live
Keira Knightley / Joe Wright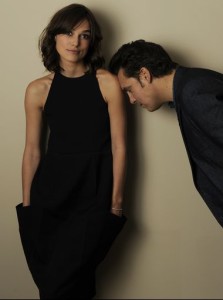 These two came of age together in 2003's Pride & Prejudice, a film that changed both of their careers. She was a child star whose biggest role was as a teenage soccer player and he was a television director. First time directors don't often get a second chance and in Knightley, Wright was able to cast an established actress rather than a first-time player as the young Elizabeth Bennet. The film was her entrance into the big leagues as she earned her first Oscar nomination.
They both share a love for period pieces and in their three films together Wright has cast Knightley as Jane Austen's heroine, as a tragic lover in a WWII drama, and in a Tolstoy classic.
Though Wright says that Knightley is not his muse ("My wife is my muse."), he does admit to being a little jealous of her work with other directors and has said that he owes his career to Knightley. "She is my dream girl."
Films: Pride and Prejudice, Atonement, Anna Karenina
Latest posts by Gregory Small (see all)