Posted
October 15, 2013 by Timothy Monforton
in Features
Trailer Trashin': David O. Russell Gets Groovy with American Hustle
Hello again, dear readers. I hope at least some of you got out to see Machete Kills over the weekend – we need to get those box office numbers up! But moving on from films paying tribute to the 1970s to films actually set in the 1970s, this week's new installment of Trailer Trashin' takes a look at David O. Russell's upcoming period drama American Hustle.
Premise: Brilliant con man Irving Rosenfeld (Christian Bale), along with his equally cunning and seductive British partner Sydney Prosser (Amy Adams), is recruited and forced to work for wild FBI agent Richie DiMaso (Bradley Cooper). DiMaso pushes the two into the world of Jersey power-brokers and mafia that is as dangerous as it is enchanting. The operating eventually involves Carmine Poltio (Jeremy Renner), the Mayor of Camden, New Jersey, who is caught between the cons-artists and the Feds. But Irving's unpredictable wife Rosalyn (Jennifer Lawrence) could be the one to pull the thread that brings this entire world crashing down.
My take: As I'm sure was the case for many people, one of the best movies I saw last year was Silver Linings Playbook. It was a great film, and it finally introduced me to the work of David O. Russell, the director who also brought us Three Kings (1999), I Heart Huckabees (2004), and The Fighter (2010). Since then, I've been interested in Russell's next project, American Hustle, a fictionalized take on the story of Abscam, the FBI sting operation in the late 1970s and early 1980s which targeted corrupt public officials. A new international trailer is out for American Hustle, and it looks like it could be really good.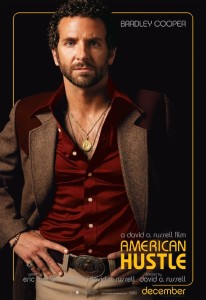 The biggest thing that American Hustle has going for it is its cast, an awesome group of actors that I'm happy to see all together in one movie. Christian Bale, who won the Best Supporting Actor Oscar for The Fighter, plays con man Irving Rosenfeld. Bale is obviously a great actor, and this movie gives us yet another example of the rather frightening lengths he's willing to go to achieve the right look for a role, with the surprising amount of weight he's gained. Bradley Cooper, who starred in Silver Linings Playbook, plays FBI agent Richie DiMaso, and after he gave such a good performance in that, I look forward to seeing him act opposite Bale. Amy Adams, who also appeared in The Fighter, plays Irving's partner-in-crime Sydney Prosser. Adams is a great actress, and I find it kind of funny that she's an American playing a Brit opposite Christian Bale, a Brit playing an American. Jeremy Renner, apparently giving a more lighthearted performance for once, plays Carmine Polito, a fictionalized version of Angelo Errichetti, the real-life Mayor of Camden, New Jersey who was indicted during Abscam. Jennifer Lawrence, who won the Best Actress Oscar for Silver Linings Playbook, plays Irving's wife Rosalyn, and it looks like her character will be a lot of fun. The cast is rounded out by Robert De Niro, Louis C.K., Michael Peña, Jack Huston, and Colleen Camp, among others.
The other thing I love about the film so far is how much it embraces the style of its 1970s setting. Much like Ron Howard's Rush earlier this year, I think the filmmakers have done a great job using costumes, production design, and photography in combination to capture the look of the period. There's 1970s hair galore, from Bradley Cooper's perm, to Jeremy Renner's pompadour, to Jennifer Lawrence's tower of blonde curls. And if the music in this trailer is any indication, we can look forward to a soundtrack of period-appropriate hits.
I really don't have anything to complain about here. This is a good trailer for what I hope could be a great film. This year has already been a good one for films set in the 1970s, with both The Conjuring and Rush, and I hope that particular hot streak will continue with this. With a great cast, a good director, and plenty of 1970s style, this looks like it could be a winner. If the final film lives up to its potential, it's a safe bet that I'll be checking out American Hustle when it opens this Christmas.
ANTICIPATION: I think I might hustle on over to see this.
Release Date: December 13th, 2013 in limited release and in wide release on December 25th
Starring: Christian Bale, Bradley Cooper, Amy Adams, Jeremy Renner, Jennifer Lawrence, Robert De Niro, Louis C.K., Michael Peña, Jack Huston, Elisabeth Röhm, Erica McDermott, Melissa McMeekin, Colleen Camp, Alessandro Nivola, and Dawn Olivieri
Director: David O. Russell
Writers: Eric Warren Singer and David O. Russell
Latest posts by Timothy Monforton (see all)