Posted
October 29, 2013 by Timothy Monforton
in Features
Trailer Trashin': The First Avenger Returns in Captain America: The Winter Soldier
Happy Halloween, dear readers! I hope you all have a fun and safe holiday, whether you're going trick-or-treating, attending parties, or staying at home and watching scary movies. And just like was the case last year, this week's installment of Trailer Trashin' takes a look at a film that's sure to inspire a lot of costumes next October, Marvel's Captain America: The Winter Solder.
Premise: Two years after the events of the Marvel's The Avengers, Steve Rogers/Captain America (Chris Evans) resides peacefully in Washington, D.C., struggling to adapt to contemporary society. But after a S.H.I.E.L.D. operative is attacked, Steve becomes entangled in a mystery that may endanger the entire world. Together with Natasha Romanoff/Black Widow (Scarlett Johansson), Captain America attempts to get to the bottom of the deepening plot while fending of hired hit men. When the entire scheme is finally discovered, Captain America and Black Widow must recruit the aid of Sam Wilson/Falcon (Anthony Mackie) and soon come face-to-face with an unexpected and powerful adversary – the Winter Solider (Sebastian Stan).
My take: Along with Iron Man (2008), Captain America: The First Avenger (2011) was definitely my favorite of the five Marvel Cinematic Universe (MCU) films which led up to The Avengers (2012). It took one of the oldest and most iconic characters Marvel has ever created and made him work for a modern audience, while still maintaining the spirit of the character. And after the release of Thor: The Dark World, the next film in the MCU will be Cap's second solo film, Captain America: The Winter Soldier. This UK trailer is our first look at the new film, and I feel very encouraged by what I see here.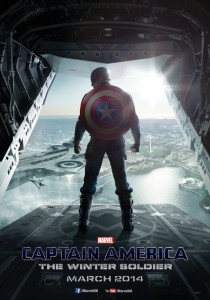 All the films in the MCU have had great casts, and Captain America: The Winter Soldier is no exception. A lot of people were skeptical about Chris Evans playing Cap when it was first announced back in 2010, but I think most of those criticisms have been silenced by this point. Evans was able to make a character who, in the wrong hands, could have been boring and made him cool. Also returning from previous MCU films is Scarlett Johansson as Black Widow, and I think it'll be fun seeing her and Cap play off each other for an entire movie. We don't see much of Sebastian Stan as the Winter Soldier, but what is shown has totally sold me on him as a credible threat. There's also not a lot of Anthony Mackie as Falcon but I think his flying suit looks awesome, and I look forward to seeing what role he plays in the story. We get a few moments of Frank Grillo as Brock Rumlow, who is a S.H.I.E.L.D. operating here but in the comics becomes the supervillain Crossbones; although given that he's the one who tries to stab Cap in the elevator, it's clear he's going to play some kind of antagonist role. Samuel L. Jackson is once again present as Nick Fury, and it looks like he might get to participate in more of the action this time. And we get to see some good stuff with Robert Redford as Alexander Pierce, a senior leader within S.H.I.E.L.D. and a member of the World Security Council. Redford is obviously a Hollywood legend, and I think the fact that he's in a superhero movie is a sign of how much more respected this genre has become.
I really like what they've shown of the story so far. The set-up of Cap working closely with S.H.I.E.L.D. is a great way to create tension because of the inevitable conflict between Cap's idealism and S.H.I.E.L.D.'s willingness to do bad things for the right reasons. Given that we see Nick Fury in a hospital, I'm guessing that he gets taken out of action, presumably from Winter Solider blowing up his car, and then Pierce and/or other leaders of S.H.I.E.L.D. who have more of a hardline stance will seize power. This would obviously lead to Cap breaking ties with S.H.I.E.L.D., and Black Widow and Falcon having to decide which side they're on. The only thing I found odd is that there was no dialogue identifying or even related to the Winter Soldier himself, and I wonder who many people who aren't familiar with the comics will understand that the name refers to the guy with the robotic arm.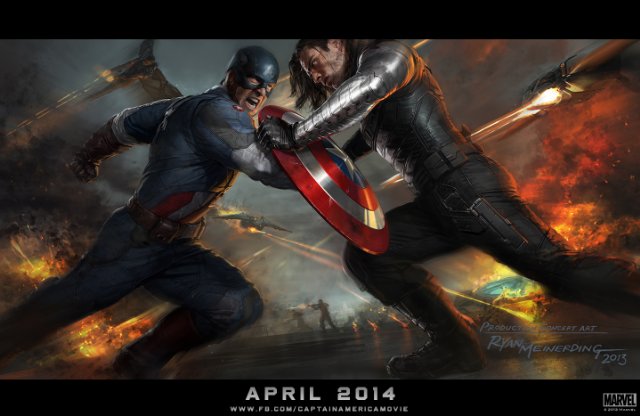 The action also looks really great. We've got lots of hand-to-hand combat, gunfire aplenty, and at least one car chase. There's also a shot of several S.H.I.E.L.D. Helicarriers falling from the sky, which makes it clear that some serious stuff is going to go down. We only see the beginning and end of the fight between Cap and a group of S.H.I.E.L.D. guys in an elevator, and I can't wait to see the entire thing. And as I said earlier, the little bit we see of the Winter Soldier has sold me on him being a credible threat, especially that last shot of him catching Cap's thrown shield with just one hand. Considering that the Russo brothers have never really directed action before, except for the Community episode "A Fistful of Painballs," I wondered if this aspect of the film might suffer. But it's clear that I needn't have worried.
Really, I don't feel the need to complain about anything here. I've liked all of the Marvel Cinematic Universe films, and I haven't seen anything to indicate that that hot streak might end. With a great cast, an intriguing story, and some kick-ass action, this looks like it will be a great way to kick off the 2014 summer movie season. When the beginning of April rolls around next year, you can be sure that I'll be checking out Captain America: The Winter Soldier on opening weekend.
ANTICIPATION: Winter is coming…and I can't wait.
Release Date: April 4th, 2014
Starring: Chris Evans, Scarlett Johansson, Sebastian Stan, Anthony Mackie, Cobie Smulders, Frank Grillo, Emily VanCamp, Hayley Atwell, Georges St-Pierre, Robert Redford, Samuel L. Jackson, Toby Jones, Maximiliano Hernández, Dominic Cooper, and Garry Shandling
Directors: Anthony Russo and Joe Russo
Writers: Christopher Markus and Stephen McFeely, based on Captain America by Joe Simon and Jack Kirby
Latest posts by Timothy Monforton (see all)