Posted
October 2, 2013 by Timothy Monforton
in Features
Trailer Trashin': Let it Snow in Disney's Frozen
Hello once again, dear readers, and I hope that at least some of you got out to see Rush this past weekend. This week's belated edition of Trailer Trashin' takes a look at the new UK trailer for the upcoming Disney animated film Frozen.
Premise: Anna (voice of Kristen Bell) teams up with mountain man Kristoff (Jonathan Groff) and his reindeer sidekick Sven in an epic journey, encountering mystical trolls, a funny snowman named Olaf (voice of Josh Gad), Everest-like extreme conditions, and magic at every turn in a race to find Anna's sister Elsa (voice of Idina Menzel), the Snow Queen, and save their kingdom from eternal winter.
My take: Disney's Wreck-It Ralph was one of my favorite movies last year, and it gave me a good feeling to see that the House of Mouse can still make great animated films even when they aren't under the Pixar banner. After that, I was eagerly anticipating the next Disney animated feature, Frozen, loosely based on Hans Christian Andersen's The Snow Queen and written and co-directed by Jennifer Lee, who had co-written Wreck-It Ralph. But the new UK trailer for Frozen is out now, and while it could still be good, it doesn't look like what I was hoping for, and I'm tempering my expectations a little bit.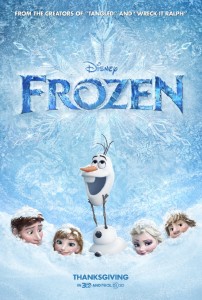 As is so often the case with animated films, the voice cast is a wonderfully eclectic mix. Kristen Bell, best known as the title character on Veronica Mars and currently appearing on House of Lies, plays our heroine Anna, a member of the royal family, and I think she has the perfect voice for the kind of spunky, headstrong character they seem to be going for. Jonathan Groff and Santino Fontana play, respectively, Kristoff the mountain man and Prince Hans, who I assume will be two parts of a love triangle with Anna. Josh Gad plays the snowman Olaf, who looks to be filling the comic relief role here. Surprisingly, we hardly see anything of Elsa, the Snow Queen and Anna's older sister, who is voiced by Broadway legend Idina Menzel. And I assume that the old man with glasses who we see briefly is the Duke of Weselton, voiced by Alan Tudyk, who previously played King Candy in Wreck-It Ralph.
The animation and visuals of the film really look great. They're sticking with the stylized school of design for computer-animated humans, which I tend to prefer. But what really impressed me are the backdrops and environmental designs, which really do look like paintings in some shots, and I think they're absolutely beautiful. The wolves and the giant snow-beast also look pretty cool, although I hope there might be more creatures the filmmakers are keeping under wraps. From what I've read, the film's animators studied how light interacts with real ice and snow, and I think that effort really shows here.
However, the humor and tone of the film that we see here threw me for a bit of a loop. Because this was the first Disney film in a while based on European fairy tales, I had hoped it might harken back to the more timeless feeling of some of the classic Disney films. However, what we see in this trailer makes it look much more like it's taking the common tactic of modern animated films – in particular, DreamWorks' Shrek series, which I've never liked – of having the main character basically act and talk like modern Americans, no matter what the setting is. In particular, the "This is fresh lacquer" line made me roll my eyes. Thankfully there's no sign of any pop-culture references, which I consider one of the most annoying things that tend to show up in weaker animated films. And while I did find some of the moments with Olaf a bit annoying, I do think there's something darkly funny about the running gag of him suffering what would be horrible physical trauma for a living creature, but of course doesn't really hinder him since he's just a snowman.
Now, I want it to be clear that I don't think Frozen will necessarily be bad, just that it's likely not going to be what I had hoped for. The voice cast is good and I really like the visuals, but I'm not sure if the humor is going to jive with me. But after Wreck-It Ralph was way better than I'd hoped it would be, I'm willing to give Disney the benefit of the doubt that they'll surprise me here. Anyway, I'm sure that lots of families will be going to see Frozen when it opens this Thanksgiving, and there's a good chance that I'll be checking it out, too.
ANTICIPATION: I'm still interested in seeing it, but my excitement has cooled a bit.
Release Date: November 27th, 2013
Starring the voices of: Kristen Bell, Idina Menzel, Jonathan Groff, Santino Fontana, Josh Gad, Alan Tudyk, and Chris Williams
Directors: Chris Buck and Jennifer Lee
Writer: Jennifer Lee, based on The Snow Queen by Hans Christian Andersen
Latest posts by Timothy Monforton (see all)