Posted
November 26, 2013 by Timothy Monforton
in Features
Trailer Trashin': Kermit the Frog and Company are Back in Muppets Most Wanted
Happy Thanksgiving, dear readers! Whether you're traveling to see relatives, hosting relatives who have traveled to see you, getting ready for the football games, or just preparing for the big holiday feast, I hope you are stay safe and enjoy yourselves. In the meantime, this Thanksgiving-week edition of Trailer Trashin' takes a look at one of my most anticipated family films of next year – Muppets Most Wanted.
Premise: While on a grand world tour, Kermit the Frog and the other Muppets find themselves unwillingly involved in a European jewel-heist caper headed by Constantine, a criminal mastermind and Kermit lookalike, and his dastardly sidekick Dominic Badguy (Ricky Gervais).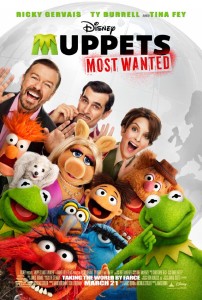 My take: As I imagine is the case for many people of my generation, I grew up loving the Muppets. I've seen their movies many times, Muppet Babies was one of my favorite cartoons when I was little, and The Muppet Christmas Carol is still my favorite Christmas movie of all time. One of my favorite movies of 2011 was the franchise relaunch The Muppets, and I've been eagerly following news on what the Muppets would do next. The next film, Muppets Most Wanted, will be released to our screens this coming March. Compared to the rather underwhelming teaser released earlier this year, this full trailer is much better, and definitely has me excited for the film.
Of course, the usual cast of Muppets are present and accounted for – Kermit, Miss Piggy, Gonzo, Fozzie Bear, Sam the Eagle, Animal, and all the rest. I'm also happy to see that Walter, the new Muppet who was introduced in The Muppets is back. In terms of the human cast, the most prominently featured is Ricky Gervais as Dominic Badguy, and it looks like he'll have a lot of fun with this role. Gervais actually made a cameo as himself in the previous film, but his scene was cut from the theatrical release. Ty Burrell, best known as Phil on Modern Family, plays French Interpol inspector Jean Pierre Napoleon, and it looks like he's very much channeling the spirit of Peter Sellers as Inspector Clouseau. I'm a big fan of Tina Fey, and her character of Nadya, the Russian gulag officer, already looks very funny.
Just like both its predecessor and the first three original Muppet films, Muppets Most Wanted will feature a large number of cameo guest stars. Only four of the roles played by the guest stars have been confirmed so far – Zach Galifianakis is reprising his role as Hobo Joe from The Muppets, Tom Hiddleston is playing the awesomely-named "Great Escapo," professional wrestler Dylan "Hornswoggle" Postl plays a gulag prisoner, and actor/singer Ross Lynch plays a young florist. The other guest stars, some of whom make brief appearances in this trailer, include Celine Dion, Lady Gaga, Salma Hayek, Frank Langella, Ray Liotta, Josh Pence, Til Schweiger, Peter Serafinowicz, Danny Trejo, Stanley Tucci, and Christoph Waltz.
I have to say, I quite like the story that's been laid out. Constantine looks like he'll be an interesting villain, and I look forward to seeing him play off against the good Muppets. And I can't wait to see what zany schemes the Muppets will have to come up with to save Kermit. Yes, it admittedly does look to be borrowing a lot from The Great Muppet Caper (1981), but The Muppets borrowed elements from The Muppet Movie (1979). And besides, if you're going to steal, steal from the best, right?
The classic Muppet sense of humor is also very much on display here. Caper films and mistaken-identity plots both have plenty of tropes and conventions which can be mined for humor, and it looks like the writers are doing just that. Constantine switching places with Kermit is rife with comic potential, and I look forward to seeing what sort of chaos he manages to cause before he's found out. At the same time, seeing Kermit have to deal with being in prison should be a lot of fun to watch, especially when his fellow prisoners include guys like Danny Trejo and Hornswoggle. And I loved the bit of Sam the Eagle and Jean Pierre Napoleon one-upping each other with their increasingly larger CIA and Interpol badges.
There's not too much to say here. I was a bit worried after the first teaser, but this trailer really put my fears to rest. With a fun cast and a story full of potential for comedy, this looks like it could be a worthy addition to the Muppet film canon. When it opens in late March, I will definitely be checking out Muppets Most Wanted at my local theater.
ANTICIPATION: It's time to play the music, it's time to light the lights…
Release Date:
March 21st, 2014
Starring: Ricky Gervais, Ty Burrell, Tina Fey, Steve Whitmire, Eric Jacobsen, Dave Goelz, Peter Linz, Bill Barretta, David Rudman, Matt Vogel, Louise Gold, Mak Wilson, Sean "Diddy" Combs, Celine Dion, Dexter Fletcher, Lady Gaga, Zach Galifianakis, Salma Hayek, Tom Hiddleston, Hornswoggle, Frank Langella, Ray Liotta, Silvana Lovin, Ross Lynch, Bridgit Mendler, Josh Pence, Debby Ryan, Til Schweiger, Peter Serafinowicz, Danny Trejo, Stanley Tucci, Usher, and Christoph Waltz
Director: James Bobin
Writers: Nicholas Stoller and James Bobin
Latest posts by Timothy Monforton (see all)