Posted
April 16, 2013 by Timothy Monforton
in Features
Trailer Trashin': Neill Blomkamp is Back with Elysium
We're midway through April, and I hope that everyone made it through tax day with their sanity intact. And there's only about two weeks left before the summer movie season finally gets underway. This week's Trailer Trashin' examines our first look at one of my most anticipated lower-profile films of the summer, writer/director Neill Blomkamp's Elysium.
Premise: In the year 2154, the very wealthy live on Elysium – a Stanford torus space habitat in Earth orbit – while the rest live on an overpopulated, ruined Earth. The people of Earth are desperate to escape the planet's crime and poverty, and they critically need the state-of-the-art medical care available on Elysium – but some in Elysium will stop at nothing to enforce anti-immigration laws and preserve their citizens' luxurious lifestyle. The only man with the chance to bring equality to these worlds is Max Da Costa (Matt Damon), an ordinary guy in desperate need to get to Elysium. With his life hanging in the balance, he reluctantly takes on a dangerous mission – one that pits him against Elysium's mayor, Secretary Jessica Delacourt (Jodie Foster) and her hard-line forces – but if he succeeds, he could save not only his own life, but billions of people on Earth as well.
My take: Neill Blomkamp's 2009 sci-fi thriller District 9 was an unexpected surprise for me and many other people. No one was probably expecting much from a low-budget sci-fi movie with an unknown cast and director released in the middle of August, but it received critical acclaim and became a sleeper hit at the box office. It delivered both visceral sci-fi action and a story that delved into racism, xenophobia, and other serious themes, a combination all too rare in modern Hollywood. Now, Blomkamp is back with his next feature – Elysium, another sci-fi actioner that deals with deeper themes. The first trailer has arrived, and I think it looks awesome.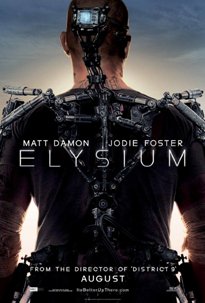 Compared to District 9, Elysium has a much more high-profile cast. Matt Damon plays the lead role of factory worker Max Da Costa, and I think he's a great fit for the role. Damon has proved with the Bourne trilogy that he can handle big action, and he also has the right kind of everyman vibe for this character.
Jodie Foster also looks great as Secretary Jessica Delacourt, the chief administrator of Elysium. Foster is obviously a great actress, and this is both her first time in a sci-fi film – she was in Contact (1997), but that was really a drama with some sci-fi elements – and, as far as I know, her first time playing a villain.
Sharlto Copley, who played the lead character Wikus van de Merwe in District 9 and Murdock in The A-Team (2010), appears briefly as Kruger, the enforcer who handles the dirty work for Delacourt. He's almost unrecognizable with that full beard, and he looks totally badass with that sword. Other notable names in the cast who aren't seen in this trailer are Alice Braga, Faran Tahir, and William Fichtner.
One of the most impressive things about Blomkamp's films is how much he manages to do in terms of special effects and action with relatively modest budgets. Elysium's production budget is $90 million, three times what District 9 cost, and it's clear that Blomkamp has used this larger canvas to make something even more impressive. I love the look of all the sci-fi tech, from the exoskeleton that Damon wears, to the robot soldiers, to the ships, to the Elysium station itself, and I'm amazed by how photo-real it all looks. The action looks as intense and visceral as I would hope, but I don't know what MPAA rating they're going for. I hope it gets an R like District 9, but I could live with it being a hard PG-13 a la The Dark Knight (2008).
The story is another thing Elysium definitely has going for it. Conflict between the haves and the have-nots is a classic storyline, and one that is extremely topical, given the economic hardships many people have faced in the last several years. Of course, given that the plot of District 9 took a number of unexpected twists and turns, I have a feeling there's much more going on in Elysium than an overly-simple "all the rich people are evil" scenario.
All in all, this is a great first trailer for what I hope will be one of many highlights of the upcoming summer movie season. Neill Blomkamp did an amazing job with District 9, and this looks like it could be just as good, and possibly even better. With a great director, a cool cast, impressive effects work, kickass action, and a story that should resonate with anyone, this is a movie that no one should miss. Come August, I will definitely be checking out Elysium at my local theater.
ANTICIPATION: I'm going to take my trip to Elysium as soon as I can.
Release Date: August 9th, 2013
Starring: Matt Damon, Jodie Foster, Sharlto Copley, Wagner Moura, Alice Braga, Diego Luna, William Fichtner, and Faran Tahir
Director: Neill Blomkamp
Writer: Neill Blomkamp
Latest posts by Timothy Monforton (see all)