Posted
March 12, 2013 by Timothy Monforton
in Features
Trailer Trashin': The Armored Avenger Returns in Iron Man 3
This past weekend saw the release of Oz the Great and Powerful, which if you've read my review you know that I really liked, and to my delight, it had the biggest opening weekend of the year so far. Meanwhile, this week's new Trailer Trashin' looks at an upcoming movie that everyone knows will be a big hit – Iron Man 3.
Premise: Tony Stark (Robert Downey Jr.) faces a powerful enemy, the Mandarin (Ben Kingsley), when he embarks on a quest to find those responsible for destroying his private world. Along the way, he discovers the answer to the question that has secretly haunted him: "Does the man make the suit or does the suit make the man?"
My take: It's no secret that I'm a huge fan of comic book movies, and in particular of the Marvel Cinematic Universe. Like many millions of other people, I absolutely loved The Avengers last year, but I did wonder where Marvel Studios could go from there, and whether further solo adventures for the individual heroes would feel underwhelming. But it seems like we needn't have worried, because everything we've seen so far for Iron Man 3 has looked really good. This is the second trailer for the film, and it's only increased my excitement.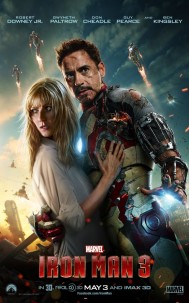 The caliber of acting talent in this film, both new and returning is really impressive. Robert Downey Jr., Gwyneth Paltrow, Don Cheadle, and Jon Favreau are all back, and I'm very happy to see them playing these characters again. We see a little bit more of Guy Pearce as Aldrich Killian, and I'm still excited about seeing him play a villain, which I don't think he's done before. There's also more of Rebecca Hall as Dr. Maya Hansen, including the fact that she's in the Stark house with Tony and Pepper when it's attacked by the choppers. The more I see of Ben Kingsley as the Mandarin, the more I'm convinced he was the perfect choice for the role; he has exactly the right sort of calculating menace that the character needs. I believe that the shirtless guy we briefly see fighting Iron Man is James Badge Dale as Eric Savin, who in the comics becomes the cyborg Coldblood; given that he's able to take on Iron Man without any weapons, he's clearly been enhanced in some way to become superhuman. And we finally get to see William Sadler in this trailer, and he's playing none other than the President of the United States, which marks the first time we've seen any world leaders in the Marvel Cinematic Universe.
This trailer shows that there's a really strong narrative at work here. The biggest problem with Iron Man 2 was that it often was more concerned with setting up The Avengers than with telling a solid story of its own, but that clearly is not the case here. The Mandarin's plan is clearly going after Tony by targeting the people he cares about, and I look forward to seeing Tony going on the warpath to get his revenge. It also smartly shows that the US government is responding to the presence of all these superhuman characters, with War Machine now decked out in a variation on the "Iron Patriot" armor from the comics.
This trailer makes it clear that the action in this film is absolutely insane. We've already seen bits and pieces of the attacks on Air Force One and Tony Stark's house, and they look as thrilling as before. But we also get glimpses of new stuff, like Iron Man fighting Eric Savin, War Machine breaking through a wall and opening fire, and a huge battle at some kind of industrial facility. And how badass is that quick shot of Tony wearing only one gauntlet from the Iron Man suit, firing a beam from the gauntlet and simultaneously shooting an Uzi with his other hand?
But by far the biggest money shot of this trailer is the ending tag, where Tony summons the "Iron Legion" – all of his other armors – as backup for him and Rhodey. Besides being incredibly cool, this also makes it clear that things are going to get crazy even without the rest of the Avengers on hand. And my geeky heart skipped a beat at that last moment, where none other than the "Hulkbuster" armor – which has always been something I wanted to see in the movies – smashes onto the scene.
There is not a single thing that has dampened my enthusiasm for this movie. After Pacific Rim, my most anticipated movie of summer 2013 is Iron Man 3. With this, Thor: The Dark World, Captain America: The Winter Soldier, and Guardians of the Galaxy on the way, the road through "Phase Two" of the Marvel Cinematic Universe is going to be an exciting one. But in the meantime, I will definitely be checking out Iron Man 3 on its opening weekend.
ANTICIPATION: Iron Man lives again, and I'm going to be there to greet him.
Release Date: May 3rd, 2013
Starring: Robert Downey Jr., Gwyneth Paltrow, Don Cheadle, Guy Pearce, Rebecca Hall, James Badge Dale, Jon Favreau, Ben Kingsley, Paul Bettany, Ashley Hamilton, Wang Xueqi, Fan Bingbing, Wu Jing, Stephanie Szostak, and William Sadler
Director: Shane Black
Writers: Drew Pearce and Shane Black
Latest posts by Timothy Monforton (see all)