Posted
May 11, 2014 by Timothy Monforton
in Features
Trailer Trashin': The Big G is Finally Unleashed in Godzilla
It's May now, and with the release of The Amazing Spider-Man 2 last weekend, we are clearly in summer movie season proper. And in that spirit, this week's Trailer Trashin' takes another look at my most anticipated movie of the summer – Godzilla.
Premise: The world's most famous monster is pitted against malevolent creatures who, bolstered by humanity's scientific arrogance, threaten our very existence.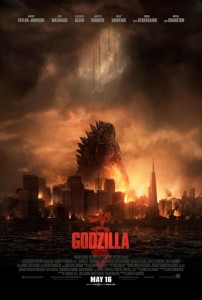 My take: As I've said multiple times in this columns, I am ridiculously excited for Godzilla. And with the release only a week away, my anticipation is at a fever pitch. Recently, a new Asian trailer, which is in English with what I believe are Mandarin Chinese subtitles, was released. This is probably the last trailer we'll get before the movie's release next week, and it really underscores why I'm so excited for the film. (WARNING: POTENTIAL SPOILERS AHEAD!)
In terms of the human cast, there's not much more to say. From where I'm standing, it looks like the two standouts will be Bryan Cranston and Ken Watanabe as, respectively, Joe Brody and Dr. Ishiro Serizawa. But I'm sure the cast will do good work across the board. Unfortunately, I've also learned recently that Akira Takarada's cameo role as an immigration officer has been cut from the final film. That's too bad, but hopefully it'll be on the Blu-ray.
This latest trailer wonderfully addresses what had been my biggest qualm about the previous ones, namely how little they showed of the monsters. This is our best look yet at the film's redesign of Godzilla, and I have to say the big guy looks awesome. I especially appreciated the daylight shot of him fighting the military at the Golden Gate Bridge, because most of our previous glimpses of him have been at night or when he was otherwise obscured. And that wonderful dialogue exchange – "A monster?" "No. A god." – absolutely nails the kind of take on Godzilla I was hoping for. This trailer also gives us a much better look at Godzilla's enemy, the Mutos. One of the clips recently released online revealed that the name "Muto" is an acronym for "Massive Unidentified Terrestrial Organism." We see a winged Muto flying past an office building. We see a Muto striding across an airport tarmac and being completely unaffected by the miniguns laying into it. And with Serizawa's line "Let them fight," there's the real money shot of this trailer, as the big Muto swoops toward Godzilla in the middle of a city, and we know that a huge monster battle is about to go down.
The trailer also clarifies some story points which had been somewhat confusing previously. It seems clear that the big secret Joe Brody knows about is that the US government has the Muto egg – or whatever it is – under lock and key, and has been hiding it from the world. This makes a lot more sense than the idea suggested by previous trailers, that they were somehow keeping the existence of Godzilla himself a secret. It appears that the Mutos break out in the desert near Las Vegas and make their way westward, while Godzilla moves east across the Pacific, and they finally meet in San Francisco.
At this point, my excitement for this film can't get much higher. The cast is great, the story looks intriguing, and the action looks awesome. If somehow the movie doesn't turn out to be good, I'm going to be so gutted. But there's absolutely no doubt that I'll be checking out Godzilla on opening weekend, and I'm seriously considering catching a midnight show on opening night.
ANTICIPATION: I'm totally ready to smash my way into the theater.
Release Date:
 May 16
th
, 2014
Starring: Aaron Taylor-Johnson, Ken Watanabe, Elizabeth Olsen, Juliette Binoche, Sally Hawkins, David Strathairn, and Bryan Cranston
Director: Gareth Edwards
Writers: Max Borenstein, David Callaham, and Frank Darabont
P.S. Next weekend (May 16th-18th) is Motor City Comic Con, which celebrates its 25th anniversary this year. As usual, the event will be held at the Suburban Collection Showplace in Novi. The special guest at this year's Con is Captain James T. Kirk himself, William Shatner. Other media guests include John Barrowman, Karl Urban, Jason Momoa, Julie Benz, and Chris Sarandon. Hope to see you all there!
Latest posts by Timothy Monforton (see all)