Posted
June 18, 2013 by Timothy Monforton
in Features
Trailer Trashin': The Journey Continues in The Hobbit: The Desolation of Smaug
Along with many other people, I saw Man of Steel this past weekend – it's a good movie, and definitely worth seeing, despite having some issues – and there were a lot of new trailers released in front of it. This week's installment of Trailer Trashin' looks at one of those trailers, which a lot of you probably saw before Man of Steel – the teaser trailer for The Hobbit: The Desolation of Smaug.
Premise: After successfully crossing over, and under, the Misty Mountains, Thorin (Richard Armitage) and company must seek aid from a powerful stranger before taking on the dangers of Mirkwood Forest – without the help of their Wizard. If they reach the human settlement of Lake-town, it will be time for the hobbit Bilbo Baggins (Martin Freeman) to fulfill his contract with the Dwarves. The party must complete the journey to the Lonely Mountain and Bilbo must seek out the secret door that will give them access to the hoard of the dragon Smaug. But where has Gandalf (Ian McKellen) got off to? And what is his secret business to the south?
My take: For me, one of the highlights of last December was finally getting to see The Hobbit: An Unexpected Journey, the first installment of writer/director Peter Jackson's three-part adaptation of J.R.R. Tolkien's The Hobbit. As a huge fan of Jackson's The Lord of the Rings film trilogy, I had been anticipating that film for a long time. And while the movie did have its issues and didn't rise to the Olympian heights of the first trilogy, I still loved seeing it. This is the first trailer for The Hobbit: The Desolation of Smaug, and I think it looks great.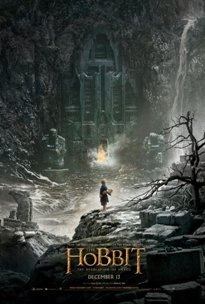 Of course, most of the characters from the first film are back this time around, and they are all present and accounted for here. However, there are also plenty of new characters appearing in this trailer. Lee Pace, best known as the lead on the short-lived TV series Pushing Daisies, appears as Thranduil, the Elven King who rules the northern part of Mirkwood. We also get our first look at Orlando Bloom, returning to the role of Legolas, and it's nice to see him back.
This teaser also gives us our first look at what is sure to be the most controversial new character created for The Hobbit, Evangeline Lilly as Tauriel, a female elf guard from Mirkwood. Personally, I'm okay with this inclusion; of course, I want to see how her involvement in the storyline plays out, but I have no problem with a new female character being added. And we finally get to see Luke Evans, most recently seen as the main villain in Fast & Furious 6 earlier this summer, as the human archer Bard the Bowman. Unfortunately, there's still no sight of Stephen Fry as the Master of Lake-town.
This trailer makes it clear that we're getting a lot more creatures and action this time around. After they were briefly teased in An Unexpected Journey, the Mirkwood Spiders are out in full force, and look as creepy and menacing as I would expect. We also get a quick look at the Dwarves struggling with a giant bear-like creature, which must be the skin-changer Beorn in his animal form. Beorn has always been one of my favorite characters in the book, and I can't wait to see more of him. And there's that glorious final shot, where we finally get a good look at Smaug the dragon. I know he's being shown next to a hobbit rather than a full-size human, but I was surprised by just how huge he looked, and I love the very classic dragon look they went with for the design.
However, as jazzed as I am for this, I do have some issues, though these are more issues with this The Hobbit trilogy as a whole. As much as I enjoyed An Unexpected Journey, it seems pretty clear that splitting this project into three films was largely, if not totally, motivated by a desire to make more money. By its very nature, the story of The Hobbit is not as epic as The Lord of the Rings, so there is a bit of a square peg in a round hole thing going on here. Of course, there are other events happening during the same time-frame, which Tolkien has described in his other works, but stretching the events of The Hobbit into three films is still taking things a bit too far. Other than that, I'm kind of annoyed that so many of the Orcs as depicted with CGI, rather than through prosthetic effects like in The Lord of the Rings. No matter how good the computer animation is, it still often lacks some of that tactile quality which is so important to helping the audience buy into it.
But my qualms aside, I'm still incredibly excited for this film. As I've said before, The Lord of the Rings trilogy are my favorite movies of all time, and getting more of Peter Jackson's vision of Middle-Earth is definitely a good thing in my book. No matter what, you can be sure that I'll be checking out The Hobbit: The Desolation of Smaug at my local theater on opening weekend.
ANTICIPATION: I think I'm quite ready for another adventure.
Release Date: December 13th, 2013
Starring: Martin Freeman, Ian McKellen, Richard Armitage, Graham McTavish, Ken Stott, Aidan Turner, Dean O'Gorman, Mark Hadlow, Jed Brophy, Adam Brown, John Callen, Peter Hambleton, William Kircher, James Nesbitt, Stephen Hunter, Sylvester McCoy, Mikael Persbrandt, Lee Pace, Orlando Bloom, Evangeline Lilly, Craig Hall, Luke Evans, Stephen Fry, Ryan Gage, John Bell, Manu Bennett, Conan Stevens, Ben Mitchell, and Benedict Cumberbatch
Director: Peter Jackson
Writers: Fran Walsh, Philippa Boyens, and Peter Jackson
P.S. I'm afraid I have sad news. Over the last week, my dog was just kept getting more sick, and by the middle of the week, it was clear she wasn't going to get better. On Friday evening after dinner, we took her to the vet and she was put to sleep. Fortunately, in that last week she was with us, I was able to work from home and spend lots of time with her, giving her lots of walks, cuddles, and attention, doing everything I could to make it as enjoyable a week for her as possible. It was a very hard decision to say goodbye to her, but I know that it was ultimately the best thing for her, instead of putting her through a lot of things to keep her around a little bit longer. Even though she wasn't around for as long as I might have wanted, every moment I did spend with her was great. She was a wonderful dog, and I'll never forget her.
Latest posts by Timothy Monforton (see all)