Posted
December 18, 2012 by Timothy Monforton
in Features
Trailer Trashin': The Last Son of Krypton Returns in Man of Steel
It's been an embarrassment of riches, dear readers. In the past week-and-a-half, new trailers have been released for no less than six of next year's big movies. Obviously, these trailer are coming out in conjunction with The Hobbit: An Unexpected Journey, which was a ton of fun, and I highly recommend you go see it. Because there were two trailers in particular that I wanted to examine – Pacific Rim and Man of Steel – it's time for the second-ever Trailer Trashin' Double Feature. Now, let's take a look at the second trailer for director Zack Snyder's Superman reboot Man of Steel.
Premise: Clark Kent (Henry Cavill) is a journalist in his twenties who was adopted as a child by Jonathan and Martha Kent (Kevin Costner and Diane Lane) after he was transported to Earth from the dying planet of Krypton. Raised with the values of his adoptive parents, he feels alienated because of his unique super abilities and struggles to find his own place in life. When the world is attacked, he becomes the hero named Superman to protect the Earth and its people.
My take: With the obvious exception of Batman, the characters of DC Comics have not had much luck on the silver screen in the last decade or so. Many of them have spent years lingering in development hell, and many of the films that have been made have not achieved the same level of success as many of the Marvel Comics films. With the Harry Potter franchise done and only two more Middle-Earth films left, Warner Bros. is pinning a lot of hopes on its DC Comics properties, and the upcoming Superman reboot Man of Steel will be the first out of the gate. This is the second trailer for the film, and I'm really liking what I've seen so far.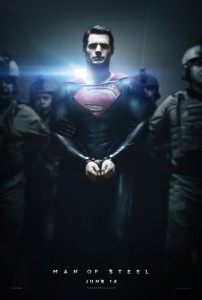 I am really impressed by the cast that's been put together for Man of Steel. The more I see of Henry Cavill as Superman, the more I like him; he just really has the sort of majesty and presence that the character needs. We get one shot of Amy Adams as Lois Lane, but it's not enough for us to get any idea of how she'll play the character. There's only a single shot of Michael Shannon as General Zod, our main villain, and I think he looks pretty bad ass. There's also a quick shot of Laurence Fishburne as Perry White, editor-in-chief of the Daily Planet, running away from some destruction. I think that Kevin Costner and Diane Lane are great choices for Jonathan and Martha Kent; and I appreciate the fact that they have different philosophies on how best to raise Clark, with Martha helping Clark cope with his powers while Jonathan is concerned with protecting Clark's identity above all else. In a brief shot, we see both Christopher Meloni – best known from Law & Order: Special Victims Unit – as Colonel Hardy and character actor extraordinaire Richard Schiff as Dr. Emil Hamilton, one of DC's go-to oddball scientist characters.
I'm really happy with the action and comic-book elements on display in this trailer. Superman sort of "charging up" before he takes off is a great moment. The design of the Kryptonian ships looks really cool, and I'm curious to see what the filmmakers will do with them. And I love that quick shot of Superman and Zod about to collide in mid-air among the Metropolis skyline. All this stuff looks great, but there's still one thing that slightly dampens my enthusiasm. I'm worried that the film might play things too down-to-earth and serious. I want Man of Steel to have a solid narrative and good characters, but I also want it to be entertaining and have that inspirational quality of the best Superman stories.
But that one aspect aside, I'm really excited for this film. It has really talented behind-the-scenes people, a great cast, and an incredible amount of potential. DC has a lot of great characters in addition to Batman, and I hope that Man of Steel will be the beginning of a bright cinematic future for them.
ANTICIPATION: I'm definitely going to see it, because I want to believe a man can fly again.
Release Date: June 14th, 2013
Starring: Henry Cavill, Amy Adams, Michael Shannon, Russell Crowe, Ayelet Zurer, Laurence Fishburne, Kevin Costner, Diane Lane, Harry Lennix, Antje Traue, Christopher Meloni, and Richard Schiff
Director: Zack Snyder
Writers: David S. Goyer and Christopher Nolan
Latest posts by Timothy Monforton (see all)