Posted
June 4, 2013 by Timothy Monforton
in Features
Trailer Trashin': The Mexican Badass is Back in Machete Kills
May is over, and we're now into the second month of the 2013 summer movie season. More to the point, this means that the release of Man of Steel is less than two weeks away, and I couldn't be more excited. But looking beyond the summer, this week's Trailer Trashin' takes a look at the first teaser for one of my most anticipated films of the fall, Robert Rodriguez's Machete Kills.
Premise: Ex-Federal agent Machete Cortez (Danny Trejo) is recruited by the President of the United States (Charlie Sheen) for a mission which would be impossible for any mortal man. He must take down a madman revolutionary (Demián Bichir) and an eccentric billionaire arms dealer (Mel Gibson) who has hatched a plan to spread war across the planet.
My take: Robert Rodriguez is truly a unique and fascinating filmmaker. Much like his friend and frequent collaborator Quentin Tarantino, Rodriguez has made his career by celebrating the kind of films he loved growing up, mainly the genres of action, crime, and exploitation, and mashing them up with his own artistic sensibilities. The film of his that perhaps best exemplifies his style is Machete (2010), the low-budget, ultraviolent exploitation tribute starring Danny Trejo as a blade-wielding Mexican Federale out for revenge. The film was a success both with critics and at the box office, but with Rodriguez's busy schedule of projects some wondered if the two hypothetical sequels, Machete Kills and Machete Kills Again, would ever get made. The first teaser trailer for Machete Kills has arrived, and it looks like exactly what I wanted to see.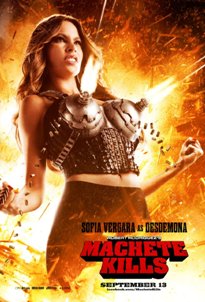 One of the things that got people to pay attention to the first Machete was the cast – a wonderfully weird, eclectic mix of talent that no one had ever expected to see in a single movie. And thankfully, that seems to be the case again for the sequel. Obviously, the centerpiece is Danny Trejo, returning to the title role of Machete Cortez. Trejo has been such a recognizable character actor for such a long time that it's great to finally see him get leading roles at this point in his career. And even though he's almost seventy years old, he still looks like he could kick the ass of anyone he crosses paths with. It's also nice to see Michelle Rodriguez back as taco-truck girl/revolutionary leader Shé; yes, having her play a badass tough chick is complete typecasting, but she does it so well I'm not going to complain. Sofia Vergara from Modern Family plays Madame Desdemona, and yes, in the final scene she is essentially wearing a machine gun bra. Also returning is Jessica Alba as Sartana Rivera, the improbably sexy ICE agent. Amber Heard from Zombieland (2009) and Drive Angry (2011) plays the seductive assassin Miss San Antonio. Other new characters glimpsed here are Antonio Banderas as Gregorio Cortez, Lady Gaga as La Chameleon, and Cuba Gooding Jr. as El Chameleon. Filling the roles of our main villains are Demián Bichir as revolutionary madman Mendez and Mel Gibson as arms dealer Luther Voz, both of whom should be fun to watch. For anyone who's wondering, yes, that is Charlie Sheen as the President; this is the first time he's been credited as Carlos Estevez, which is his actual birth name. He's not a performer I have a whole lot of respect for, but I trust Robert Rodriguez to make use of whatever talent Sheen does have. The guy in the suit at the beginning of the trailer is William Sadler, who we just saw as the President in Iron Man 3, as Sheriff Doakes, who I'm assuming is a bad guy, considering that he tries to hang Machete. Other notable names in the cast that aren't featured here include Zoe Saldana, Edward James Olmos, Vanessa Hudgens, Alexa Vega, Marko Zaror, Tom Savini, and Electra and Elise Avellan.
Another key to why Machete worked is how well it captured the vibe of the 1970s exploitation films it paid tribute to. Based on this teaser, that looks to be very much the case again in the sequel. So many of the details seem straight out of those old films, in both the visuals – the film grain effect, the blown-out colors – and the audio – the slightly tinny music, the cannon-like gunfire sounds. The bits that we see of the action look promising, and I'm sure we'll see plenty of blood and gore splashed across the screen. And the voiceover used in this trailer – unfortunately, I don't know who provides the narration – is the perfect complement to the imagery, toeing the line between serious and ridiculous, just like I imagine will be the case for the film as a whole.
Not much to say here, really. The cast looks awesome, the action seems cool, and the grindhouse aesthetic is back in full force. Robert Rodriguez is a filmmaker I'm always interested in following, and I'm glad that he's able to make the kind of films that are clearly so close to his heart. So, when the middle of September rolls around you can be pretty sure that I'll be checking out Machete Kills at my local theater.
ANTICIPATION: I'm ready to draw my machete and hack my way to the front of the line.
Release Date: September 13th, 2013
Starring: Danny Trejo, Michelle Rodriguez, Mel Gibson, Jessica Alba, Charlie Sheen, Sofia Vergara, Demián Bichir, Amber Heard, Antonio Banderas, Zoe Saldana, Edward James Olmos, Vanessa Hudgens, Cuba Gooding Jr., Lady Gaga, William Sadler, Alexa Vega, Marko Zaror, Tom Savini, and Electra and Elise Avellan
Director: Robert Rodriguez
Writers: Kyle Ward, Robert Rodriguez, and Alvaro Rodriguez
Latest posts by Timothy Monforton (see all)