Posted
March 19, 2013 by Timothy Monforton
in Features
Trailer Trashin': The Unlikely Heroes Return in Kick-Ass 2
We're most of the way through March, and that means the beginning of spring is (hopefully) just around the corner. But while we wait for the warmer weather, there are still new movie trailers for us to watch. This week's Trailer Trashin' looks at the red band first trailer for the offbeat superhero sequel Kick-Ass 2.
Premise: After the insane bravery of Kick-Ass (Aaron Taylor-Johnson) inspires a new wave of self-made masked crusaders, led by the badass Colonel Stars and Stripes (Jim Carrey), our hero joins them on patrol. But when these amateur superheroes are hunted down by Red Mist (Christopher Mintz-Plasse) – reborn as The Mother F***er – only the blade-wielding Hit-Girl (Chloë Grace Moretz) can prevent their annihilation.
Note: This is a red band trailer, which means it can only play in theaters with R-rated movies and therefore is not appropriate for those under the age of 17. This trailer contains plenty of violence, some blood and gore, and a lot of foul language, so it is definitely "not safe for work."
My take: In the interest of full disclosure, I only saw Kick-Ass (2010) for the first time a few days ago, and I have to say that I quite enjoyed it. Watching the film, it was clear to me why it was so embraced by the target audience of geeks, while also being rejected by a number of critics and much of the general public. However, considering the film's somewhat middling box office take, I had doubted for a long time that a sequel would ever happen. But it is happening, and I have to say I'm looking forward to it. Now the first trailer for Kick-Ass 2 has arrived, and it definitely looks like a worthy follow-up.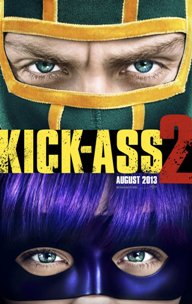 The relatable, everyman charm that Aaron Taylor-Johnson brought to the role of Dave Lizewski/Kick-Ass was a big part of why the original film worked, and it's great to see him back in the role and getting to take the character to new places. Chloë Grace Moretz as Mindy Macready/Hit-Girl was undoubtedly the breakout character of the original film, and thankfully she's back for the sequel, and just as violent, foul-mouthed, and frankly awesome as ever. Representing the forces of evil is Christopher Mintz-Plasse as Chris D'Amico, who was previously Red Mist and has rechristened himself The Mother F***er, the first costumed super villain in the world of Kick-Ass. As ridiculous as the idea of Mintz-Plasse playing a murderous villain might sound, I think he can summon up the sort of edge needed to make it work. The most prominent new character is Jim Carrey as Sal Bertolinni/Colonel Stars and Stripes, the leader of the superhero team "Justice Forever." Carrey looks like he's having the time of his life with the role, and I think he seems perfect for what's basically a nuttier version of the Comedian from Watchmen. Other new characters seen here are bodybuilder Olga Kurkulina as the towering villainess Mother Russia, Donald Faison of Scrubs fame as the superhero Doctor Gravity, and Lindy Booth as the super heroine Night Bitch. Not seen here are John Leguizamo as The Mother F***er's bodyguard Javier, Morris Chestnut replacing Omari Hardwick as Hit-Girl's foster dad Marcus Williams, or returning cast members Lyndsy Fonseca as Kick-Ass's love interest Katie Deauxma and Yancy Butler as The Mother F***er's mom Angie D'Amico.
The tonal balancing act that the original Kick-Ass pulled off was a big part of what made it stand out, and so far it looks like the sequel will recreate that. The wish-fulfillment elements – the idealistic dream of being a superhero, the deliberately gaudy costumes – are contrasted with darker real-world ones – brutal fights that end in injury or death, the real danger posed by guns and knives – to walk the fine line between deconstruction and celebration of superhero tropes. Without the presence of Matthew Vaughn in the director's chair, I was worried that Kick-Ass 2 might not be able to pull this off again, but this trailer did a lot to put my fears to rest.
I don't know what the budget on Kick-Ass 2 is compared to the first film, but the filmmakers are clearly using their resources to amp up the level of the action. We've got the members of "Justice Forever" going after various criminals. We've got the villains attacking the suburban neighborhood. And we've got Hit-Girl out of costume riding on top of the crooks' van to rescue Kick-Ass, which by itself is bigger than anything from the first film. Plus there's the element of the police trying to round up the costumed heroes, which opens up all kinds of possibilities. And I can't wait to see what kind of tricks and tools all the new characters might have up their sleeves.
I don't feel the need to complain about anything here. With a great cast, that wonderful offbeat style, and the promise of some cool action, there's a lot to look forward to here. Assuming the filmmakers can maintain the tone and feel of this trailer for the entire film, we could have a winner on our hands. Come the middle of August, you can be pretty sure that I'll be checking out Kick-Ass 2.
ANTICIPATION: This looks like an ass-kicking good time.
Release Date: August 16th, 2013
Starring: Aaron Taylor-Johnson, Chloë Grace Moretz, Christopher Mintz-Plasse, Jim Carrey, Donald Faison, Robert Emms, Lindy Booth, Daniel Kaluuya, Clark Duke, Augustus Prew, Olga Kurkulina, Andy Nyman, John Leguizamo, Enzo Cilenti, Morris Chestnut, Yancy Butler, Lyndsy Fonseca, Claudia Lee, and Ken Jeong
Director: Jeff Wadlow
Writer: Jeff Wadlow, based on Kick-Ass 2 and Hit-Girl by Mark Millar and John Romita Jr.