Enter for Your Chance to Win Tickets to An Advance Screening of Trouble with the Curve
Congratulations to the winners of our "Enter for Your Chance to Win Tickets to An Advance Screening of Trouble with the Curve" contest! Here they are: Lempo4, KBA, Just1asc, Kendellann, Scutia51, Charisseryden, Colin Davis, Picky R, Fanfabroj, Adam, Jewel Edwards, Softrose68, Karen, Carolyn H., StephBeth, Drichmond, Mark, brendavt, missmac7655, Ajea, Picky R, slimjohn, misterD, Rrichmond, and RichB. If you won, you should have received an email telling you how to claim your prize. Thanks for participating in the contest and check back here soon for more exciting giveaways!
We've got 25 pairs of passes (two admit-one passes per winner) to see a sneak preview of the upcoming Warner Bros. film TROUBLE WITH THE CURVE on Thursday, September 20th at 7:00PM at the Emagine Royal Oak in Royal Oak, MI.
And we want you to have them, so we've got a contest for you.
All you have to do is post a comment below and share with us your favorite Clint Eastwood, Amy Adams, or Justin Timberlake movie, quote, or, well, you get the idea. As always, please make sure your comment is linked to an ID with a valid email address (note: Facebook IDs don't always work unless you're preregistered with a comment service like Disqus – which you can do below) so we can reach you if you win.
HOW TO ENTER
Then, come back here and post a comment in the section below telling us about your favorite Clint Eastwood, Amy Adams, or Justin Timberlake movie, quote, or whatever – as long as it involves movies from those actors (comment as often as you like, but remember, only one entry will be eligible for the contest).
Do all this before midnight on Tuesday, September 18th.
We'll select the winners from the list of all entrants.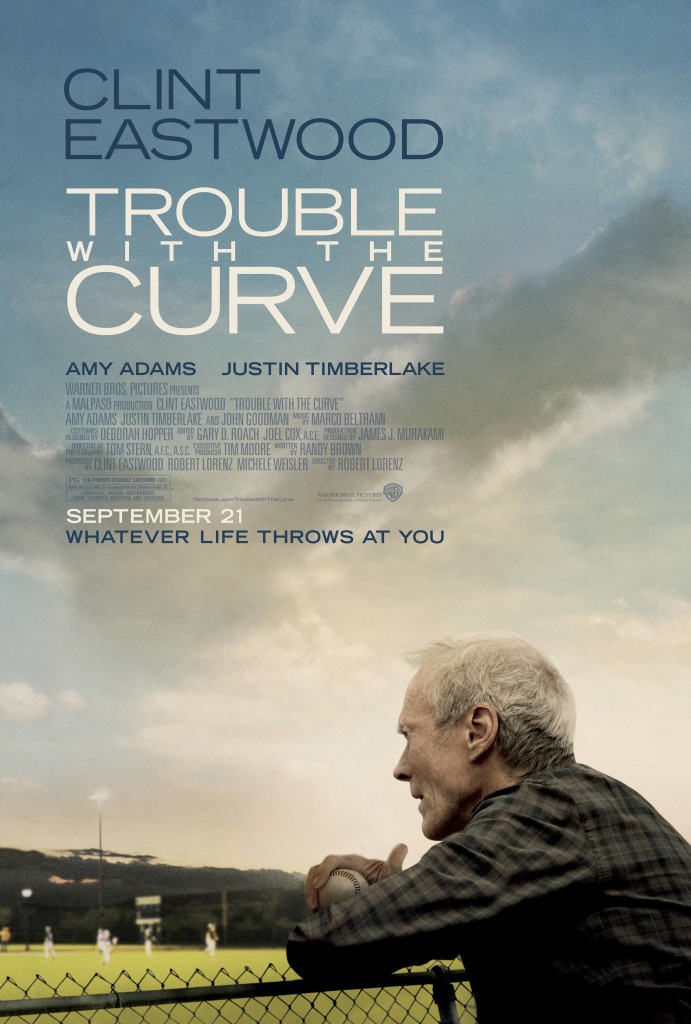 RULES AND CONSIDERATIONS
Valid entries must be received before midnight on September 18th.
Prizes are provided by Allied-THA.
No purchase necessary to enter.
You must be 18 years or older to enter.
Winners are responsible for getting themselves to the theater on the day and time of the screening as specified above.
Your pass does not reserve you a seat. This is a promoted, public preview and seating will be allocated on a first-come first-served basis to all pass holders. The theater will be filled to capacity. In other words: MAKE SURE YOU SHOW UP EARLY ON THE DAY OF THE SCREENING TO WAIT IN LINE AND CLAIM YOUR FREE SEATS.
Winners agree to abide by further rules and restrictions prescribed by the studio and its publicity agents that may be printed on or presented with the pass.
Winners will be selected by a method of CinemaNerdz's devising. All judgments are final.
No complaining if you didn't win.
All federal, state and local regulations apply. Seating at screening event is limited and on a first-come, first-served basis and is not guaranteed.
Please arrive early. One entry per household. No purchase necessary.
Employees of all promotional partners, their agencies, and those who have received a pass within the last 90 days are not eligible. A recipient of prizes assumes any and all risks related to use of ticket and accepts any restrictions required by prize provider. Warner Bros. Pictures, CinemaNerdz.com and their affiliates accept no responsibility or liability in connection with any loss or accident incurred in connection with use of a prize. Prizes cannot be exchanged, transferred or redeemed for cash, in whole or in part. We are not responsible if, for any reason, winner is unable to use his/her ticket in whole or in part. Not responsible for lost; delayed or misdirected entries. All federal and local taxes are the responsibility of the winner. Void where prohibited by law. PRIZES RECEIVED THROUGH THIS PROMOTION ARE NOT FOR RESALE. Entrants must be at least 18 years of age. Each pass admits one. Seats are not guaranteed, as the theater is intentionally overbooked to ensure capacity. Employees of promotional partners are not eligible to win.
ABOUT THE FILM
Academy Award® winner Clint Eastwood (Million Dollar Baby, Unforgiven), Oscar® nominee Amy Adams (The Fighter, Doubt, Junebug), and Justin Timberlake (The Social Network, Friends with Benefits) star in TROUBLE WITH THE CURVE, which marks the feature film directorial debut of Eastwood's longtime producing partner Robert Lorenz.
Gus Lobel (Eastwood) has been one of the best scouts in baseball for decades, but, despite his efforts to hide it, age is starting to catch up with him. Nevertheless, Gus, who can tell a pitch just by the crack of the bat, refuses to be benched for what could be the final innings of his career. He may not have a choice. The front office of the Atlanta Braves is starting to question his judgment, especially with the country's hottest batting phenom on deck for the draft. The one person who might be able to help is also the one person Gus would never ask: his daughter, Mickey (Adams), an associate at a high-powered Atlanta law firm whose drive and ambition has put her on the fast track to becoming partner. Mickey has never been close to her father, who was ill-equipped to be a single parent after the death of his wife. Even now, in the rare moments they share, he is too easily distracted by what Mickey assumes is his first love: the game. Against her better judgment, and over Gus's objections, Mickey joins him on his latest scouting trip to North Carolina, jeopardizing her own career to save his. Forced to spend time together for the first time in years, each makes new discoveries, revealing long-held truths about their past and present that could change their future.
Timberlake is Johnny Flanagan, a rival scout who has his sights on a career in the announcer's booth…and has eyes for Mickey. The main cast also includes John Goodman as Gus's old friend and boss, Pete Klein, and Matthew Lillard as Phillip Sanderson, the Braves' associate director of scouting. Lorenz directed the film from a screenplay by Randy Brown. The film is produced by Eastwood, Lorenz and Michele Weisler, with Tim Moore serving as executive producer. The behind-the-scenes creative team was led by Academy Award®-nominated director of photography Tom Stern (The Changeling); Academy Award®-nominated production designer James J. Murakami, (The Changeling); editor Gary D. Roach and Oscar®-winning editor Joel Cox (Unforgiven); and costume designer Deborah Hopper. The music was composed by Oscar®-nominated composer Marco Beltrami (The Hurt Locker).
Warner Bros. Pictures presents, a Malpaso production, TROUBLE WITH THE CURVE. The film will be distributed worldwide by Warner Bros. Pictures, a Warner Bros. Entertainment Company.
This film is rated PG-13 for language, sexual references, some thematic material and smoking.
TROUBLE WITH THE CURVE opens in theaters on September 21st.
LEARN MORE ABOUT TROUBLE WITH THE CURVE BELOW:
Film site: http://www.facebook.com/TroubleWithTheCurve