Enter to Win Tickets to a Preview Screening of The Legend of Hercules
CinemaNerdz readers have a chance to be one of the first to see the new film from director Renny Harlin, The Legend of Hercules in 3D!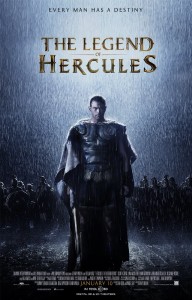 For your chance to receive a pair of the twenty-five (25) complimentary passes we have to see the film at the Uptown Palladium 12 in Birmingham, Michigan on Thursday, January 9th at 7:00PM, just scroll down to the "Legend of Hercules Advance Screening" box further down on this page.
There you'll be directed to a variety of methods you can enter the contest. You'll be asked to provide a valid email address. That's it. That's all you have to do to enter. We'll contact you to let you know if you've won. But hurry, because the contest ends at noon on Tuesday, January 7th!
ABOUT THE FILM
THE LEGEND OF HERCULES: In the epic origin story THE LEGEND OF HERCULES, Kellan Lutz stars as the mythical Greek hero – the son of Zeus, a half-god, half-man blessed with extraordinary strength. Betrayed by his stepfather, the King, and exiled and sold into slavery because of a forbidden love, Hercules must use his formidable powers to fight his way back to his rightful kingdom. Through harrowing battles and gladiator-arena death matches, Hercules embarks on a legendary odyssey to overthrow the King and restore peace to the land. (SUMMIT ENTERTAINMENT) This film is rated PG-13.
THE LEGEND OF HERCULES opens in theaters on Friday, January 9th!
Click the image below to enter the contest!