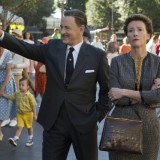 Movie Review: Saving Mr. Banks
What We Liked
Emma Thompson shines despite her character's insistence otherwise; vivid, believable scenery appropriate for the eras; a real smile-maker
What We Didn't Like
Tom Hanks steps aside, allowing Emma Thompson to be the star (which is only a negative to those hoping to see a Tom Hanks film)
Posted December 20, 2013 by
Mandi Hall
Know that when you go see Saving Mr. Banks, you are not going to see a Tom Hanks film. You are going to see an Emma Thompson film. And you just might be awfully glad you did, my friends.
Truth be told, I'm not a huge Disney fan. I enjoy the Disney movies I watch, though I haven't seen all (or even most) of them. I do, however, admire the story behind P.L. Travers and her treasured Mary Poppins, and it's that affecting controversy – not the promise of The Mouse – that piqued my interest. In this case, Tom Hanks is simply a magnificent bonus. Furthermore, Colin Farrell is much more integral to the film than the trailers lead you to believe. For that, we can be grateful, for he added an element of charismatic grit to an otherwise luminous film.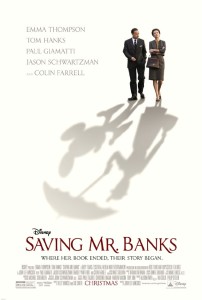 Saving Mr. Banks is based on the culmination of a twenty-year journey during which Walt Disney (played by a saccharine, mustachioed Tom Hanks) attempts to gain P.L. Travers' (or "Mrs. Travers," played, and played well, by Emma Thompson) permission to turn her beloved, bestselling Mary Poppins book into a Disney film. These twenty years of opposition led up to Mrs. Travers even agreeing to meet with Disney about the potential rights to the movie – and that's where this story begins.
Mrs. Travers is ultra-resistant to the idea of handing over the film rights, dreading that Walt will turn Mary Poppins into a "twinkly" Disney character eliciting silliness and glee. Mary Poppins, along with other characters from the book, was based on someone very real from Mrs. Travers' childhood, hence her belief that Poppins ought to be portrayed more realistically – and Mrs. Travers made sure to let every Disney cohort she came in contact with know it.
Saving Mr. Banks is set in the early 1960s, with a number of telling flashbacks to Mrs. Travers' childhood half a century prior (applause go to Annie Rose Buckley, who impressed as a young P.L. Travers). Colin Farrell plays her playful-yet-abrasive father, Travers Goff, and he does so with a side of Farrell we don't often get to see. The scenes between the young P.L. and her father are so engaging that each time we're flashed forward to the world of Disney, it's a bit disappointing.
The first Disney employee Mrs. Travers encounters is Ralph, her driver, played by a humble Paul Giamatti. His role as Ralph is small, but surprisingly fundamental; a breath of fresh air, albeit hokey at some points.
At one point, Ralph drives Mrs. Travers through the Hollywood hills, remarking how beautiful a drive it is. Ironically, this scene is one of the most visually uninteresting. The set designers truly outdid themselves with vivid canvasses used throughout (though, to be fair, you can't depict Disneyland without an absurdly splashy pallet, can you?). Just as the flashback scenes were appropriately muted alongside rich mahoganies, the greenest grasses and bursts of warm sunshine, the Sherman brothers' (Robert and Dick Sherman were played by happy-makers B.J. Novak and Jason Schwartzman, respectively) scenes in the present-day 1960s transport you into a cold-linoleum room of dusty chalkboards, milky white drawing paper, and the California breeze floating through the Disney studio's windows.
While Saving Mr. Banks is not a musical, it would be wrong to make a movie about the making of Mary Poppins and not include a couple of musical numbers by the legendary songwriting duo, wouldn't it? Though not prevalent, the songs were just the cherry on top (of a spoonful of sugar, if you will). Get ready to find yourself smiling during every scene in which Don DaGradi (played by an amusing Bradley Whitford) and the Sherman brothers are in together – and then cringe when you see that the only person not smiling at their Broadway antics is the unyieldingly argumentative Mrs. Travers.
I'll leave you with this: Emma Thompson is a gift to Disney, even as she portrayed a true thorn in Walt Disney's side. Steadfastly irritating and tremendously crusty – even amidst her very few instants of charm (finally!) – I believed in Thompson as P.L. Travers, and can't think of anyone who could have done her better justice in Saving Mr. Banks. I went for the story, and I came out believing it. I was charmed.