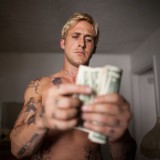 Movie Review: The Place Beyond the Pines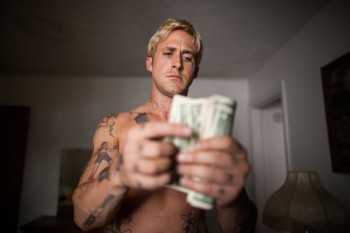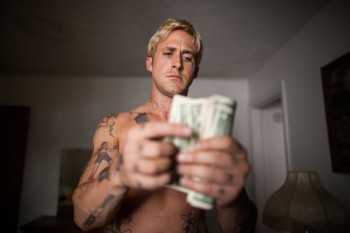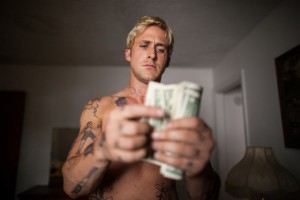 :
:
:
:
:
Genre
:
Drama
What We Liked
Told with a warmth missing from the more traditional version of this kind of cops and robbers material
What We Didn't Like
Too many contrivances lead us into the otherwise involving, emotionally-resonant fallout from the main characters' actions and ambitions
Posted April 12, 2013 by
Gregory Fichter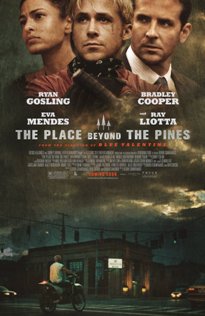 Luke (Ryan Gosling) has the recklessly cool job of motorbike stunt driver in traveling carnivals; back home once again in Schenectady, New York, he finds that he has left behind a one-year-old baby boy with his former fling Romina (Eva Mendes) and sets out to make right by doing wrong in the intimate crime epic The Place Beyond the Pines.
Blue collar love and loss was the heart-rending subject of director Derek Cianfrance's previous collaboration with Mr. Gosling Blue Valentine – a fully-formed actor's showcase unafraid to leave viewers devastated by its gritty treatment of a dissolving love affair/marriage, the film struck a chord of sincerity and lived-in realism that felt like a throwback to relationship films from the 1970s (John Cassavetes being an obvious influence). The Place Beyond the Pines is a more outwardly ambitious effort – a multi-tiered family saga with gunplay and car chases that still maintains Cianfrance's talent for deglamorized, emotional rawness over the course of its mesmerizing, house-of-cards narrative.
Three times we are given the same shot – a long tracking shot pacing behind a determined, troubled lead character. This choice, seen so often in Darren Aronofsky's work, has become camera psychology shorthand for the inevitable fate of a protagonist waiting to catch up with them. Luke opens the film with one of these unbroken shots ending a few minutes later inside one of those global cages with three men doing motorcycle stunts at top speed; sure death avoided by professional precision. At key moments that same pesky shot will hound both an idealistic police patrolman (Bradley Cooper in another redeeming role) and Luke's haunted teenage son (Dane DeHaan) all the way to their shared destiny in a remote wood.
Tattooed, torn, but still Gosling-pretty with a short blonde haircut reminiscent of mid-sixties Marlon Brando, Luke decides to quit his road-life to play father to his son Jason. Used to the transient life and a fair bit of danger, Luke sets up shop in a remote repair shop with a mechanic/mentor (Ben Mendelsohn) known to also occasionally rob banks. Well-intentioned, quick money is Luke's unlucky draw into a series of shaky, unprofessional bank heists that hum with tension and an unpolished sense of the moment (including the fears of the criminal) which is often absent from the efficient, cocky way banks are usually robbed in movies. Gosling's high-pitched demands of the terrified tellers is an antithesis of cool harkening back to the botch job Al Pacino deals with in Dog Day Afternoon and a mocking call-out to casual macho bravado that is usually required of crime pictures.
A few successful jobs, a celebratory dance with a dog to Bruce Springsteen's "Dancing in the Dark" that shows off what a softy Gosling is no matter what role he is playing, and a decent wad of cash tucked away for the baby's future, Luke takes on one more fateful job that leads the film in the direction of Catholic rookie cop Avery (Cooper) and the way in which his baby boy and Luke's son Jason will meet by film's end fifteen years later to re-enact the sins of their fathers. Heavy, novelistic plotting like this is rare in American cinema, further placing Cianfrance and his co-writers Ben Coccio and Darius Marder apart from the current crop – he favors long takes, methodical unfolding, then blasts of searing movement, speed, violence shot with breathless camera movement. These techniques heighten the emotional veracity he builds from shot to shot (characters inhabit the edges of the frame; fathers, sons, and lovers being drawn away from one another by the pull of the 2.35:1 scope aspect ratio) and analyzes his three male protagonists in a way that echoes the pace and psychological interiority of a great Clint Eastwood picture.
Too many contrivances lead us into the otherwise involving, emotionally-resonant fallout from Luke's crimes, Avery's political ambitions, and the generational effect that both men have on their families. The Place Beyond the Pines is thick, exhausting storytelling that will not be for everyone but is clearly told with a warmth missing from the more traditional version of this kind of cops and robbers material; character is king in Cianfrance's drama but the leaps of faith that require us to believe that the young characters in the third act would conveniently meet and become toxic friends is perhaps a step too far in trying to go for a full Biblical tragedy in what works better in the early going as a moral tale of sin and redemption on grimy blue-collar "Sunday Catholic" terms.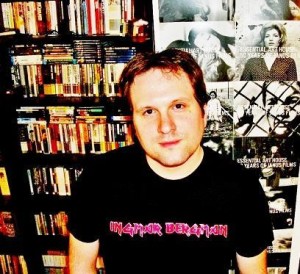 Gregory Fichter
Greg toiled for years in the hallowed bowels of the legendary Thomas Video and has studied cinema as part of the Concentration for Film Studies and Aesthetics at Oakland University. He has hosted the cult movie night "Celluloid Sundays" at The Belmont in Hamtramck, MI. and enjoys everything from High Trash to Low Art.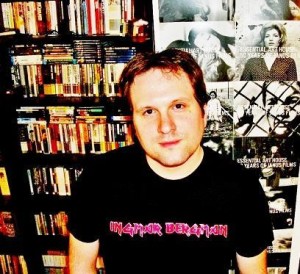 Latest posts by Gregory Fichter (see all)