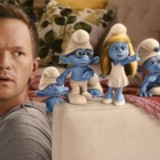 Movie Review: The Smurfs
When certain films are released, mostly those of kid-centric variety, critics tend to forget that they're not necessarily the film's target audience. So, we here at CinemaNerdz decided we needed the critical viewpoint of a true member of the movie's intended demographic. Thus, we turn the reins over to Miranda Clarke, age 9, as she shares with us her views on the new film "The Smurfs."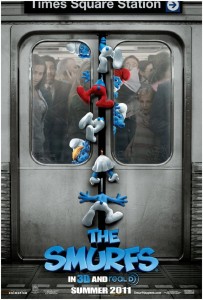 I thought The Smurfs was awesome and SMURFtacular! It had a great story and I liked how the Smurfs talked with a lot of "smurf" talking. Smurfity, smurf, smurf, smurf. The word "smurf" can be used for anything. The movie had a nice flow and lots of interesting parts. The 3D effects, story, and action pulls you into the movie and makes you want to see more. I liked Smurfette (Katy Perry) the most because she is the only girl and she was kind and caring. I saw from the previews that this was going to be a good movie, but it had more action and pulled me in more than I thought it would. The writers and directors did a really good job on this movie and I give them a round of applause. The Smurfs takes you to an unknown world and it made me feel like I was traveling even though I never left my seat.
The Smurfs starts off with the Smurfs in Smurfland where the old smurf is saying, "they never get angry and even a blue day is a happy day." Because the Smurfs are blue, get it? The Smurfs end up in the real world because of Gargamel (Hank Azaria), the evil wizard who wants to capture the Smurfs and get their magical power. The Smurfs and Gargamel all fall through a portal to the real world where the Smurfs meet Patrick (Neil Patrick Harris) and Grace Winslow (Jayma Mays) and lots of action and emotions begin. The animated Smurfs walking around with the real people in the movie looked pretty crazy. But the filmmakers did a really good job. Small blue guys just don't fit into a real world, making this a smurftacular movie.
The 3D action was great and when Gargamel was attacking the Smurfs it felt like he was attacking you too. But, when there wasn't any action you could take off the 3D glasses because it was like a regular movie. I was a little upset that there weren't more 3D effects for the movie. I was going to give this movie a lower rating than I did because of the lack of 3D effects, but overall the movie was really good and I felt that it overcame the lack of effects.
The ending of The Smurfs was really good, too. The Smurfs had to say goodbye to the family. Watching the Smurfs saying goodbye and the Smurfs telling the Winslow's that they had a good time made me emotional and touched my heart. The Smurfs are smart, clumsy, angry, and cute which made me feel like that too. No matter what age you are – you will like it, although my eleven-year-old brother and my dad didn't like the movie as much as I did.