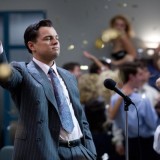 Movie Review: The Wolf of Wall Street
Leonardo DiCaprio is electric in The Wolf of Wall Street, Martin Scorsese's epic tale of excess and greed that just falls short of being a masterpiece.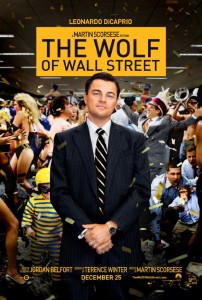 The actor plays Jordan Belfort as the viewer follows him through his decadent rise to the top of the Wall Street game. The Wolf of Wall Street is admittedly slight on the rags part of Jordan's story. After a brief stint as an errand boy with a couple of no nonsense agents, Jordan quickly realizes the money to be made in the penny stocks. He collects a rag tag team of seemingly hopeless wannabes to push a product they neither stand by nor fully understand. In fact, Jordan attempts to explain his game to the audience, but realizes that nobody really cares about the logistics. Bottom line: he is getting filthy rich and not exactly legally.
Jordan lives in a world of fast cars, faster women, and, did I mention drugs? He meekly announces he is a drug and sex addict, but this is all a product of the one thing he loves more than both of those vices – money. After a brief entanglement with the FBI on his yacht he is about to realize the cost his shady dealings will yield. However, he doesn't seem to mind and forges ahead to try to add to his pile of money by taking yours. It's almost like DiCaprio playing Howard Hughes again, but this time as an illegitimate businessman with a coke problem.
Jordan's right hand man, Donnie (Jonah Hill), pours his heart and soul into the game of deception. Donnie is looking for a confidant and a way out of his stale existence. He soon finds this in the flashy and larger than life doctrine that Jordan preaches. The two become fast friends and once Donnie agrees to leave his day job to follow the stock trade the viewer is in for a treat. DiCaprio and Hill are a revelation to watch together. The two play partners in crime that riff off each other in a way that's both fun and refreshing to watch. Also, there is a piece of physical comedy involving a Quaalude that will have you in stitches. It's unlike anything you've ever seen from DiCaprio. In fact, DiCaprio gives Hill a run for his money in the comedy department and it is nice to see that the actor is still challenging himself after all this time.
There is also a breakout performance by Margot Robbie who plays Jordan's wife Naomi. Naomi knows her husband has wandering eyes and less than wholesome motives, but she couldn't care less. Naomi is dazzled by her name on a yacht and her princess cut diamonds. The actress is equally at home swirling around her palatial estate or brawling with her husband. Robbie infuses Naomi with a playful energy. She is a vixen dripping with stunning sexuality. Her confident performance reassures the viewer that Scorsese is just as capable directing his female players.
The Wolf of Wall Street is much more a comedy than many of Scorsese's other outings, but the director's sure hands guide us through Belfort's rise to power with a cool immediacy that is fun to watch. Scorsese tackles the material with his usual fervor leaving the viewer rooting for the immoral man to beat the system and retain his place atop the upper echelons of corporate greed.
It should be said that the film is not for the viewer hoping for a more wholesome outing to the cinema. The Wolf of Wall Street opens with two illicit sexual acts and the film continues to shock the audience with so much nudity, drugs, and coarse language, one can only wonder how the ratings system allowed all this racy material through.
However, the film hits a snag in the third act. Unlike Goodfellas, the protagonist's undoing is not quite as impressive. It's no surprise that Jordan will pay for his sins in some capacity, I just wish it had been handled in the same spectacular manner that the first two thirds of the film showcased. The Wolf of Wall Street is a fun time at the movies that will most certainly make your own lives seem very boring which is what we should look for in a good piece of art.
Matt Santia
After spending ten years out in the crazy city of Angels, Matt Santia returned to Michigan with a degree in Cinematic Arts from Lucas' and Singer's alma mater: The University of Southern California. After taking a well deserved break from the industry and all its crazy, Matt is ready to jump back into the fray and find some interesting projects in the area.
Latest posts by Matt Santia (see all)