Posted
September 29, 2013 by Peter Gareffa
in Features
The Top Ten Car Racing Movies of All Time
The release of Ron Howard's Rush, one of the most anticipated (not to say mega-hyped) films of the year, inevitably begs comparisons to some of the great car-themed movies of the past.
It seems that automobiles have played key roles in films of every genre, from drama to horror to comedy to documentary. In some, like American Graffiti, Rebel without a Cause, and Bonnie and Clyde, the vehicles primarily help set the tone of the era in which the stories are set. In other films the cars themselves are the story. The animated Cars comes to mind, along with the Love Bug series, Christine, and Chitty Chitty Bang Bang. And then there are films in which the cars have taken their place alongside the human stars as film icons in their own right. James Bond's Aston Martin DB5, for instance, as well as Bullit's Mustang GT, the Smokey and the Bandit Trans Am, the Minis from The Italian Job, and the DeLorean that took Michael J. Fox Back to the Future.
But there are car movies and then there are car movies. Although most gearheads find something to like in all the examples above, there's a hard-core group of enthusiasts for whom the real thing must have actual racing in it. Not police-and-bad-guy chases through the streets of Venice and San Francisco or drifting or illegal street-racing, but realistic depictions of auto-racing, with human drivers competing on racetracks.
For this oil-splattered cadre of fanatics — and others who have spent the summer anxiously awaiting the release of Rush — we present the admittedly subjective, yet exhaustively researched and highly defensible Top Ten Car Racing Movies of All Time.
10. Days of Thunder (1990)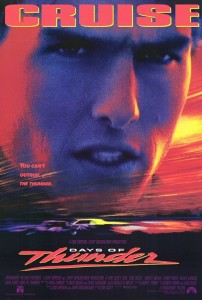 Not quite "Top Gun on wheels," as it was billed, but still worthwhile. Tom Cruise, re-teaming with the earlier film's director, Tony Scott, and producers Jerry Bruckheimer and Don Simpson, this time pilots a Chevy as Cole Trickle, a former Sprint-Car driver moving up to the NASCAR circuit. Randy Quaid and Robert Duvall co-star as the team owner and crew chief who help the rookie turn his raw talent into racing success. Despite a few plot left-turns (Cruise hitting on neurosurgeon Nicole Kidman while having his brain put back together), the racing action provides enough entertainment for stock-car fans to justify the investment of a couple hours.
Technical difficulty: Those who follow NASCAR know that Phoenix International Speedway is a flat track, but in the film it's shown as a high-banked oval.
9. Speedway (1929)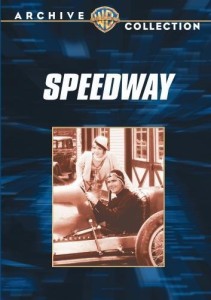 No, not the 1968 picture with Elvis Presley as a musical stock-car driver and Nancy Sinatra barely (okay, un-)believable as an IRS agent. This earlier Speedway featured William Haines in his last silent film, starring as Bill Whipple, a mechanic-turned-driver who finally gets his chance to race in the Indianapolis 500. Much of the movie was shot at the Indy racetrack with cameos by famous drivers of the time, and some of the action footage is comprised of shots from the 1929 race, giving viewers a fascinating glimpse of racing in the Roaring Twenties. The story may be somewhat tedious, with the brash Whipple getting a seat in the race through a series of contrived events, but Speedway's value as both film and racing history earns it a place on this list.
Technical difficulty: Even in 1929 it wasn't that easy to get a last-minute ride in the Indianapolis 500.
8. The Last American Hero (1973)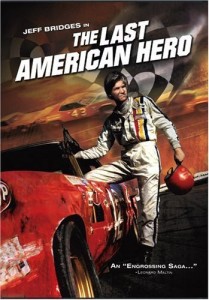 Loosely based on the life of stock-car racer Junior Jackson, as told by Tom Wolfe in his collection of essays The Kandy-Kolored Tangerine-Flake Streamline Baby, this film stars Jeff Bridges with a noteworthy supporting cast that includes Geraldine Fitzgerald, Ned Beatty, Gary Busey, and Valerie Perrine. Bridges turns in a fine performance as Junior Jackson, the hell-raising son of a moonshiner who mends his ways to concentrate on honing his driving skills and enters the world of professional stock-car racing. Bridges plays the role of brooding, charismatic rebel to perfection as he smoothly woos race groupie Perrine and faces off against rival drivers on his way to the top. Decent racing action, along with outstanding performances from all the actors, makes this a worthy choice.
Technical difficulty: From demolition-derby to NASCAR in one quick step. Really?
7. Heart Like a Wheel (1983)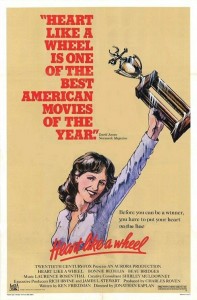 This biopic stars Bonnie Bedelia as Shirley "Cha Cha" Muldowney, who overcame sexism in the 1960s and 1970s to gain acceptance as a world-class drag-racer. The film did well at festivals and garnered generally positive critical reaction, but it failed at the box office, probably due in no small part to its meaningless title. Muldowney herself, though, was a crowd favorite, unabashedly donning a pink helmet and driving equally pink cars on her way to NHRA championships and a host of other racing achievements until her retirement in 2003. The movie succeeds on the strength of Bedelia's performance and that of co-star Beau Bridges as her mentor and love-interest, Connie Kalitta, not to mention some deafening drag-racing action.
Technical difficulty: When Muldowney first meets Kalitta in 1966, he's driving a Mustang funny car. At the time Kalitta was racing top-fuel dragsters and didn't move to funny cars until the early 1970s.
6. Winning (1969)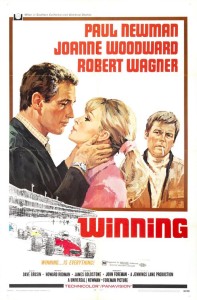 Of the many actors who have dabbled in racing, Paul Newman was one of a select few who actually gained recognition by other drivers and achieved real success on the track. Winning is the project that got him hooked on the sport. To prepare for the movie he trained with some of the best driving instructors in the business, with the payoff being some great on-track action. Newman plays professional racer Frank Capua, who is besieged by an unfaithful wife (Joanne Woodward) and a conniving partner (Robert Wagner) as he struggles to reach the Indianapolis 500. The soap-opera plot is overcome by serviceable acting all-around, but mostly by the vehicular eye-candy. On his journey, we see Frank racing Can-Am cars, sports cars, stock cars, and finally open-wheel Indy racers, all filmed with the best camera techniques available in 1969.
Technical difficulty: Not much, really, but as with many racing films, the characters seem to have a lot of time to gesture to each other while driving on tracks at high speed.
5. Talladega Nights: The Ballad of Ricky Bobby (2006)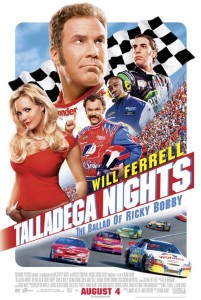 What began as a spoof of NASCAR has somehow morphed into a legitimate racing film in its own right. It's still funny, though. Will Ferrell — who also served as co-writer and executive producer – takes the title role by the throat and plays it to the expected levels of comedic absurdity. Ricky and his buddy Cal (John C. Reilly) are "Shake and Bake," stereotypical good-old-boy stock-car racers, of a type probably not seen in NASCAR since its infancy. Along the way to the climax at Talladega Superspeedway, they are confronted by various setbacks stemming from personal demons, business problems, crashes, and menacing fellow drivers, including an effeminate Formula 1 racer played to perfection by Sacha Baron Cohen. It's a fun ride, with beautifully filmed, if somewhat predictable, racing action.
Technical difficulty: Ricky's car is shown to have a 5-speed transmission, but everyone knows NASCAR rules only allow 4-speeds.
4. Senna (2010)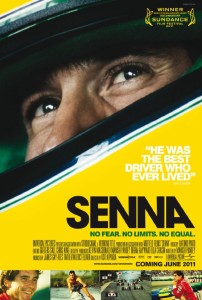 Covering the career of Formula 1 champion Ayrton Senna from his first Grand Prix in 1984 to his death at the San Marino race in 1994, this highly acclaimed documentary appeals to both fans and non-fans alike. Drama abounds as Senna struggles with the Formula 1 authorities, advancing technology, team politics, and other drivers on his way to three world championships. Particularly gut-wrenching, in light of his final crash, is Senna's continuing battle for improved track safety. Tension is added by his interaction with fellow driver Alain Prost. Although Prost, an adviser on the film, later protested his depiction as Senna's chief antagonist, the on-screen portrayal of their intense rivalry makes for some riveting scenes. Most of the footage was taken from actual racing films and the Senna family's own videos, with just a minimal amount of narration to pull it together. As a result, we learn a lot about Senna from on-track action and period interviews, and what we discover is that in addition to being one of the greatest drivers of all time, Senna was a thoughtful and generous person who is justifiably revered as a hero in his native Brazil.
Technical difficulty: Hey, it's a documentary!
3. Grand Prix (1966)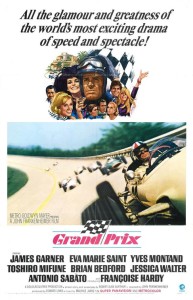 Starring James Garner, another celebrity who achieved legitimate status as a real-life racer (he did his own driving in the film), Grand Prix tells the story of American Formula 1 ace Pete Aron, who is fired from his British racing team after a crash and begins driving for a rival Japanese outfit. Although sidetracked somewhat by a melodramatic love triangle, the plot holds together fairly well, aided by creditable performances from co-stars Eva Marie Saint, Yves Montand, Jessica Walter, and Toshiro Mifune as a race-team owner based on the great Soichiro Honda. The real star of the film, however, is the racing action, much of it taken from actual competition footage and the rest created by director John Frankenheimer and his crew using ground-breaking (in 1966) technology and car-mounted cameras. The result is intense visual and aural stimulation, which won the film three Academy Awards for sound, sound effects, and editing.
Technical difficulty: In the film, cars are shown racing at Monza in Italy on a banked section of track. But the high banking at Monza was eliminated from the Formula 1 circuit there after a crash killed a driver and fifteen spectators in 1961.
2. Le Mans (1971)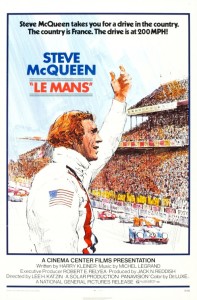 Although it contains less plot than the documentary Senna – actually it carries less plot than almost anything ever put on a movie screen – Le Mans claims its place on the list for its relentless, heart-pounding depiction of the action at the world's most grueling endurance race. The film stars Steve McQueen, one of three noteworthy actors who went on to become highly acclaimed race drivers in real life (oh, let's make it four, since Patrick Dempsey's two drives at Le Mans move him into that circle), as Michael Delaney of the Gulf Porsche team who is pitted against the mighty Ferrari squad for dominance of the motor-racing equivalent of Mt. Everest. There's a bit of drama involving Delaney's pursuit of the widow of a driver whose death he may have had a hand in causing, and some additional tension stemming from rivalry between drivers, but most of the plot is left on the track. There, screaming Porsche 917s do battle with glorious red Ferrari 512s, the lead changing hands several times before the conclusion, which leaves both drivers and audience thoroughly wrung out. A must-see film for gearheads, although casual viewers may zone out from the thin plot and dearth of dialog.
Technical difficulty: The race action is almost perfect, but the PA announcements at the track are given only in English, while at Le Mans they are always done first in French.
1. Rush (2013)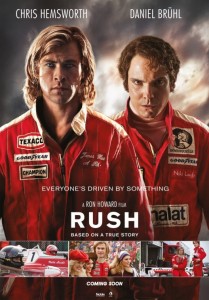 It may seem reckless to give a new release the top spot on this list, but on a list in which films often struggle to balance realistic racing action with an actual plot, Rush manages to provide both in large doses. In telling the story of the intense rivalry between Formula 1 racers James Hunt and Niki Lauda, director Ron Howard went to great lengths to ensure realism in the vehicles, using vintage race cars when possible and spot-on replicas at other times. Much of the action was filmed on location at famous tracks, including Brands Hatch and Cadwell Park in England, while Lauda's epic crash was shot at the Nurburgring in Germany, where he nearly lost his life in 1976. Lauda survived – barely – to serve as a technical adviser on Rush, along with a number of other experts, including Alastair Caldwell who managed Hunt's McLaren team during the 1976 season. As for the story, it almost tells itself: Hunt, the swaggering British ladies' man is pitted against Lauda, the introspective, cerebral Austrian, in one of the closest battles for a world championship in Formula 1 history. Lauda had won five races to Hunt's two when he crashed at the German Grand Prix, suffering horrible facial burns and damaged lungs. Still in intense pain, Lauda limped back after missing just two races and managed to make it a contest, with Hunt taking the championship by a single point. Stars Daniel Brühl and Chris Hemsworth give outstanding performances as Lauda and Hunt, respectively, and even though supporting players Olivia Wilde and Alexandra Maria Lara aren't given much to do, their work is good enough to keep up. Even though it's fresh out of the box, Rush's accuracy and dramatic story are sure to make it a favorite of racing aficionados for years to come.
Technical difficulty: In its depiction of the all-important race at the Nurburgring in 1976, the film shows cars on sections of the course that did not exist until its reconstruction in 1984. (The modifications were compelled by a series of accidents, including Lauda's.)
Peter Gareffa
Peter Gareffa is a Michigan-based writer, editor, and blogger on a variety of subjects, including popular culture, biography, business, cars, and motorcycles. He has been published in
Newsmakers
,
Car Crazy
, the
Edmunds.com
automotive web site, and others.
Latest posts by Peter Gareffa (see all)