Posted
October 23, 2012 by Timothy Monforton
in Features
Trailer Trashin': Tom Cruise versus Werner Herzog in Jack Reacher
This week's installment of Trailer Trashin' examines the second trailer for Christopher McQuarrie's upcoming book-adapted thriller Jack Reacher.
Premise: In an innocent heartland city, five people are shot dead by an expert sniper. The police quickly identify and arrest the culprit, and build a slam-dunk case. But the accused man claims he's innocent and says "Get Jack Reacher." Reacher himself (Tom Cruise) sees the news report and turns up in the city. The defense is immediately relieved, but Reacher has come to bury the guy. Shocked at the accused's request, Reacher sets out to confirm for himself the absolute certainty of the man's guilt, but comes up with more than he bargained for.
My take: Almost since the beginning of movies, novels have been one of the most popular sources on which to base films. And even though Rob Cohen's Alex Cross just landed in theaters with a resounding thud, Hollywood is still trying to find the next book-based thriller that will catch on big with audiences. Now we have the second trailer for Jack Reacher, the upcoming thriller based on the novel One Shot by Lee Child. While it looks pretty good, there's nothing that makes me want to see it on the big screen.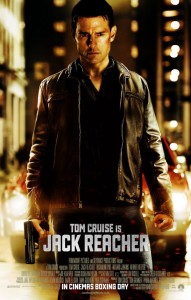 In terms of the cast, the big focus is obviously on Tom Cruise as the eponymous hero Jack Reacher. Honestly, I've never been a fan of Cruise; he's certainly been in some good movies, but I can't help having my perception of him clouded by all the negative stuff out there about him as a person. But one thing I do totally respect about Cruise is that he always tries; even when he's not giving a good performance, he never phones it in. We also see Rosamund Pike as attorney Helen Rodin, and I'm always glad to see her in a movie. Richard Jenkins and David Oyelowo play the lawmen that Reacher butts heads with. There's also a brief appearance by Robert Duvall as ex-Marine Samuel Cash; Duvall is obviously a Hollywood legend, and I'm glad that he's still working regularly. Joseph Sikora plays James Barr, the accused gunman, and he certainly looks the part of a Marine sniper. Jai Courtney, who will play John McClane's son in A Good Day to Die Hard next year, plays the main henchman, and looks quite badass. But the person I was most excited to see is legendary German filmmaker Werner Herzog as the Zec, the Russian crime boss who serves as the main villain. I've been a fan of Herzog for quite a while, and even though he's not a trained actor, I think he'll still make a memorable baddie.
The film is written and directed by Christopher McQuarrie, who is best known for writing The Usual Suspects (1995). However, his only previous credit as a director is the poorly-received cult heist film The Way of the Gun (2000). The action in Jack Reacher also looks pretty exciting. And I'll admit, I did love the beat at the end of the trailer where Reacher hides in the crowd and one guy loans him a baseball cap.
However, while there are certainly a lot of talented people both in front of and behind the camera here, the whole thing just feels generic to me. The "cop who doesn't play by the rules" has got to be the most overused hero in movies. And the other major characters – the crusading attorney, the haunted former soldier, the ruthless foreign gangsters – are just variations on types we've seen many times before. And I think it was a mistake to change the title to Jack Reacher, instead of sticking with One Shot, the title of the original novel.
Now, to be clear, I don't think this movie is going to be horrible. It all looks very well made and the people working on it are talented, but it just feels standard and by-the-book to me. As I said before, the thing that interests me the most is the presence of Werner Herzog. But for fans of the Lee Child books and people who like these kinds of thrillers, I hope the movie turns out well. It's not my cup of tea, but if you're looking for a straightforward crime thriller this Christmas, you might want to check out Jack Reacher.
ANTICIPATION: I might check it out via Netflix at some point, but I won't pay money to see it at the theater.
Release Date: December 21st, 2012
Starring: Tom Cruise, Rosamund Pike, Richard Jenkins, Robert Duvall, David Oyelowo, Michael Raymond-James, James Martin Kelly, Nicole Forester, Alexia Fast, Joseph Sikora, Jai Courtney, and Werner Herzog
Director: Christopher McQuarrie
Writer: Christopher McQuarrie
P.S. So, Warner Bros. is planning to put out a Justice League movie for summer 2015? The same summer as The Avengers 2? Mark my words, this is going to make The Avengers vs. The Dark Knight Rises showdown this summer look tame by comparison.
P.P.S. For anyone who hasn't seen the first trailer for Iron Man 3, which was just released on Tuesday, check it out. I'll be writing about that one next week.
Latest posts by Timothy Monforton (see all)