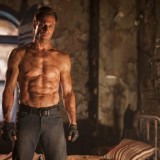 Movie Review: I, Frankenstein
What We Liked
Great visuals, good action, talented people in the cast
What We Didn't Like
Thinly-written characters, poor storytelling, falls into too many cliches of the genre
Posted February 5, 2014 by
Timothy Monforton
In the long history of horror fiction, few characters are as iconic and well-known as the Frankenstein monster. Mary Shelley's creation has appeared hundreds of times across different media, and his name and image are instantly recognizable the world over. While the most famous cinematic depiction of the creature is, of course, Boris Karloff in James Whale's Frankenstein (1931), many other actors have played the role over the years, including Lon Chaney Jr., Bela Lugosi, Glenn Strange, Christopher Lee, David Prowse, Clancy Brown, Chris Sarandon, and Robert De Niro. Now we have I, Frankenstein, a fantasy-action film based on the graphic novel of the same name by Kevin Grevioux and starring Aaron Eckhart as the titular monster. Despite some nice visuals and a good cast, I, Frankenstein is pretty mediocre overall, and largely squanders what potential it did have.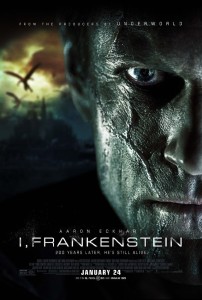 Shortly after the death of his creator in 1795, the Frankenstein monster (Aaron Eckhart) is attacked by demons before being rescued by gargoyles. Leonore (Mirando Otto), the gargoyle queen, explains that the gargoyles were created by the Archangel Michael to battle demons on Earth. She names the monster "Adam" and invites him to join them, but he declines and leaves after being given gargoyle weapons that allow him to destroy demons. Centuries pass, and Adam roams the earth, fighting and destroying demons that come after him. In the present day, Dr. Terra Wade (Yvonne Strahovski) has made a breakthrough in her attempts to restore life to dead organs and tissue. But unbeknownst to Terra, her employer Charles Wessex (Bill Nighy) is actually the demon prince Naberius, and he plans to recreate the original experiment of Dr. Frankenstein and use it to raise an army with which to destroy the gargoyles and conquer humanity. As the forces of heaven and hell face off, Adam finds himself inexorably drawn into the battle.
It's too bad the film is so mediocre, because there are some great people in the cast. Aaron Eckhart is a great actor, but he just has not had good luck with his leading roles. I heard an interview with Eckhart talking about the film where he spoke very intelligently and passionately about the idea of the Frankenstein monster being an outcast and journeying toward a degree of self-acceptance. It's a shame that really none of that is present onscreen in the final movie. Bill Nighy has long been one of my favorite character actors, but he seems to be just collecting a paycheck with his work here. Similarly, Yvonne Strahovski's role as Dr. Terra Wade really does nothing to show off her talent. While the character of Terra is nothing to write home about, I did appreciate that she didn't end up being a love interest. Unfortunately, she ends up not really having a vital role to play in the story at all, beyond being the creator of the science stuff the villain needs for his plan. Miranda Otto as Leonore gets stuck having to give lots of exposition and get captured by the villains at one point. Jai Courtney's bad luck trying to break into movies continues with his role as Gideon, the leader of the gargoyle army. He handles himself well in the action scenes, but there's really nothing to the character.
The strongest element of I, Frankenstein is its visuals. Production designer Michelle McGahey did a great job creating the sets and locations, and they are beautifully shot by cinematographer Ross Emery. The action and fights are also pretty impressive. Eckhart in particular did a great job with Adam's signature style of dual-wielding staffs or blades, which the actor said was based on Eskrima, the traditional martial arts of the Philippines. But I found it frustrating how closely I, Frankenstein follows many of the tropes of modern urban fantasy cinema. We have constant night scenes, lots of people wearing black and long coats, overelaborate mystical weapons, scenes shot with blue filters, and more. Of course, none of these things are bad in and of themselves, but using them without trying for any kind of a new spin just comes across as lazy and uninspired.
Unfortunately, the storytelling really falls short of its potential. Much like the movie as a whole, the plot is not so much bad as completely predictable. Once all the main characters had been introduced, I was able to guess how the storyline would unfold. And quite frankly, a lot of the dialogue is pretty cringe-worthy. As I watched, my heart went out to the actors struggling to make these overwritten lines sound remotely natural.
I, Frankenstein is the hardest kind of movie to review, one where you truly don't feel strongly about it in either a positive or negative way. The film looks gorgeous and the action is cool, but the poor writing and storytelling drags the entire production down.
Latest posts by Timothy Monforton (see all)