Posted
June 25, 2013 by Timothy Monforton
in Features
Trailer Trashin': The Little Yellow Dude Comes Alive in The Lego Movie
This past weekend, Monsters University debuted at the number one spot in the box office. I haven't seen it yet, but I plan to when I get the chance. In the meantime, this week's Trailer Trashin' examines our first look at what could be one of next year's big family films, The Lego Movie.
Premise: Emmet (Chris Pratt), an ordinary guy, is mistakenly thought to be the extraordinary Master Builder, the one who can save the universe. With the aid of the old mystic Vitruvius (Morgan Freeman), a tough young lady called Lucy (Elizabeth Banks), and Batman (Will Arnett), Emmet will fight to defeat the evil tyrant Lord Business (Will Ferrell), who is bent on destroying the universe by gluing it together.
My take: When it was first announced that a movie based on the Lego toy line was in the works, I was one of the many people who shook my head in disbelief. But my opinion started to turn around when it was announced that Phil Lord and Christopher Miller, the writing/directing team behind Cloudy with a Chance of Meatballs (2009) and 21 Jump Street (2012) would be taking on the project. My interest continued to grow when the cast started to be revealed, including the fact that Batman and other licensed characters would be appearing. Now the first teaser trailer for The Lego Movie has arrived, and it looks like it's going to be way better than anyone expected.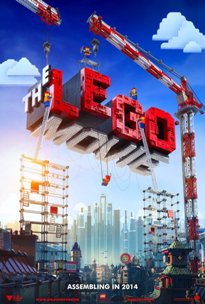 One of the things I love about animated films is that you get a totally eclectic mix of actors that you would never see in their live-action counterparts, and such is the case here. I've become a fan of Chris Pratt from his work on Parks and Recreation, and I'm looking forward to seeing him in next year's Guardians of the Galaxy, and I think he's great casting for the loveable but slightly dopey character they're going for with Emmet. The news that Will Arnett was going to be voicing Batman was the first thing that got me interested in this film, and if what we hear of him in this teaser is any indication, he was the absolute perfect choice. Elizabeth Banks, in what I believe is her first animation role, is on hand as the voice of Lucy, and I can definitely buy her as the cute tough girl. And the always-reliable Morgan Freeman is lending his sonorous voice to the role of the master builder Vitruvius, another in his long line of wise old mentor characters.
Unfortunately, this teaser doesn't show us anything of the villains – Will Ferrell as President Business, Liam Neeson as Bad Cop, and Nick Offerman as Metalbeard – but they do have to save something for the subsequent trailers.
I have to say, I really love the style of animation being used here. As far as I know, this is all computer-generated, but it's animated in such a way – with the obvious exception of the characters' facial features – that it looks like stop-motion made using Lego people. The best thing I can compare it to is the way the Nicelanders were animated in Wreck-It Ralph (2012). I'm sure it took a lot of time and effort to so exactly recreate the look and feel of the Lego mini-figures in digital form, but I great appreciate that work.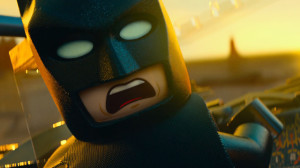 The humor on display here looks really spot-on. The captions at the beginning are a perfect use of misdirection, making unaware audiences think they're seeing something along the lines of The Avengers or Justice League. But then we see the Lego characters, and realize what we're really in for. I love that characters like the DC Comics heroes and the Ninja Turtles are just an accepted part of this world. And I love that every part of the world, except the sky, is Lego-based – for example, the "laser beams" are actually pieces of translucent plastic that would go with a Lego set. Really, the only moment in the teaser I didn't like was the overly-long gag at the end of Emmet being flummoxed by seeing Lucy. And I have to say it's a little depressing that the first time we get to see Wonder Woman in a theatrically-released feature film is as a Lego character, rather than in an actual Wonder Woman movie.
By all conventional wisdom, The Lego Movie should have been nothing but a giant punch line. A movie based on a line of toys which not only stars the toys themselves, but also toy versions of mass-market licensed character, would be the ultimate example of corporate influence on modern filmmaking. But there's no denying it, this looks like it could be really good. I like to believe that the right talent and the right approach can make a good movie out of anything, and I feel like that will be borne out here. I would never have said this once upon a time, but you can definitely pencil me in for seeing The Lego Movie come next February.
ANTICIPATION: Pull yourselves together and get in line, this looks like it could be huge.
Release Date: February 7th, 2014
Starring the voices of: Chris Pratt, Will Arnett, Elizabeth Banks, Morgan Freeman, Liam Neeson, Alison Brie, Will Ferrell, Nick Offerman, and Charlie Day
Directors: Phil Lord, Christopher Miller, and Chris McKay
Writers: Phil Lord, Christopher Miller, Kevin Hageman, and Dan Hageman
Latest posts by Timothy Monforton (see all)